It's after ten, but my pickles are finally done. Oh! I haven't been working on them all night. I took a little nap when I got home and didn't get started until almost seven.
As promised, here is the recipe. It is adapted from a recipe I found in Calling All Cooks by the Alabama Telephone Pioneers. This one is from Emma Arnold.
Strip Pickles
7 lb cucumbers
1 c pickling lime
4 1/2 lb sugar
2 qt distilled vinegar
1 tsp salt
1 tsp whole cloves
2 tsp pickling spices
1 tsp celery seeds
Make sure you use large cucumbers...I used 10. Peel cukes and remove seed pockets. Cut into strips. Place in a large container (not metal!) Add 1 c pickling lime to 1 gallon of water and poor over cukes. Refrigerate 24 hours.
Rinse the cucumber strips until water runs clean. Cover with water, place covered into refrigerator for 24 hours.
Rinse cukes again until water is clear. In a large pot, mix sugar, salt, and vinegar. You may wrap spices in cheese cloth (I used a tea ball) or drop loose into pot. Bring to a rolling boil. Add cukes and remove from heat. Refrigerate overnite.
Bring pot of syrup and cucumbers to a rolling boil and boil for 40 minutes or until cucumbers become tranparent.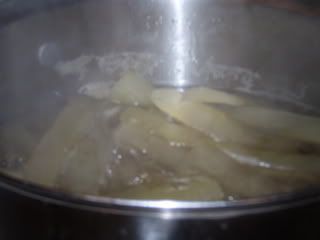 Place in jars.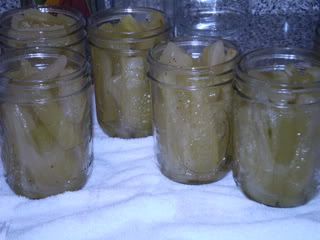 Cover with syrup. If you dropped the spices into the syrup loose, you will need to strain first. (You can see that some spices escaped my tea ball but I liked the flecks in the syrup and left it.)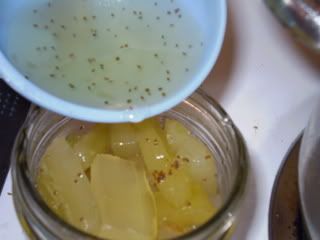 Put on lids and rings and place in a water bath for 10 to 12 minutes.
The finished product!
10 cucumbers made 9 pints of pickles for me. They are incredibly crunchy, spicy, sweet and tart.