I love the Academy Awards. I always have. I was watching the night of the streaker and the amazing David Niven's cool response. I was watching as Sally Field exclaimed "You like me! You really like me!" I've seen Bob Hope, Johnny Carson, and David Letterman host, and prefer Billy Crystal, but that's just me.
I used to have a big party every year to watch the Academy Awards but I moved about an hour's drive from my friends and that drive, late, on a workday seems a bit much to ask. But I love giving the party and creating a theme menu based on the various movies nominated.
This year I decided to throw a little party for little ol' me and I created a theme menu.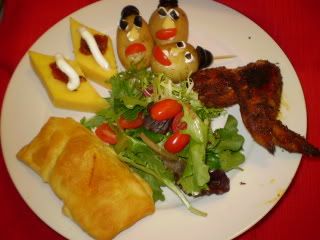 Polenta (grits) Bites with sour cream and pepper jelly--
True Grit
Potato heads (new potatoes boiled in salty water with black olive hats, tomato lips, smoked gouda nose--
Toy Story
Blackened Chicken Wings--
Black Swan
Baby greens with fresh herbs, green onions, and grape tomatoes with a lemon vinegairette--
The Kids Are All Right
Mini Hot Pockets with peperoni, cheese, black olives, and tomato sauce--
Social Network
Not shown--Blueberry Almond (heart-shaped) Tart--Blue Valentine
Ah! The flavor that is the movies!