This is not your momma's shortbread cookie!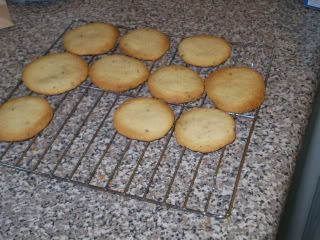 This is a surprising and sophisticated twist on an old favorite that combines the smokiness of cumin, the richness of butter, the brightness of lemon, and the unexpectedness of black pepper.
But do not be confused. This is a cookie, not a cracker. It disolves on your tongue while the ghosts of flavors are still haunting your surprised palate. It makes you think. It makes you wonder. It makes you want more.
Would I take these cookies to the church bake sale? No. Would I serve these cookies to my rather "set in their ways" parents. Definitely not! However, would I set out a plate of these while entertaining my foodie friends? You betcha!
Imagine a table full of appetizers, savory and salty, cruchy and tart. And then, these cookies An excellent addition, I think.
The recipe is by Molly O'Neill of the NYT and is on page 695 of The Essential New York Times Cookbook.
Pepper-Cumin Cookies
2 c all purpose flour
6 Tbs sugar
1 tsp kosher salt
2 tsp grated lemon zest
1 tsp black peppercorns, cracked
1 tsp cumin seeds, cracked
2 sticks unsalter butter, cut into pieces and softened slightly
1 tsp vanilla extract
1. Heat the oven to 350 degrees. Line 2 baking sheets with parchment paper. Put the flour, sugar, salt, lemon zest, peppercorns and cumin in the food processor and pulse to combine. Add the butter and vanilla and pulse until the mixture forms a dough.
2. Transfer the dough to a work surface. Shape into 1" balls and place 2" apart on parchment lined baking sheets. Flatten each cookie with the palm of your hand to 1/4" thick.
3. Bake until lightly browned, about 15 minutes. Remove from pans and place on racks to cool.
The cookbook says approximately 30 cookies, but I got 3 dozen.