This week's selection for our
Barefoot Blogging
was chosen by Ashley at
The Spicy Skillet
and is Smoked Salmon Spread from the Barefoot Contessa Family Style cookbook.
Okay. I have to admit something here. I've never had smoked salmon before so I was leery of this recipe, but since it includes three things I love, sour cream, cream cheese and dill, I decided to give it a try. Call me epicurious!
Since all of Ina Garten's recipes make enough food to feed a small army or at least a very large dinner party, I decided to half the recipe. And I'm not a fan of horseradish so I reduced the amount even further.
Smoked Salmon Spread
8 ounces cream cheese -- at room temperature (4 oz)
1/2 cup sour cream (1/4 cup)
1 tablespoon freshly squeezed lemon juice (2 tsp)
1 tablespoon minced fresh dill (I love dill! Did not adjust.)
1 teaspoon prepared horseradish -- drained (1/4 tsp)
1/2 teaspoon kosher salt (1/4 tsp)
1/4 teaspoon freshly ground black pepper (1/8 tsp)
1/4 pound smoked salmon -- (4 ounces) minced (2 oz)
Instructions:
Cream the cheese in an electric mixer fitted with a paddle attachment until just smooth. Add the sour cream, lemon juice, dill, horseradish, salt, and pepper, and mix. Add the smoked salmon and mix well. Chill and serve with crudites or crackers. Makes 1 1/2 pints.
First...the amazing smell of smoked salmon. Oh my! My mouth began to water!
I hesitantly tasted just a small sample from the beater. And another. And another. My eyes opened wide and I immediately began thinking of ways to use this. In my mind I could see cherry tomatoes stuffed with this with a little fresh dill for a garnish. Or small new potatoes!
And then I remembered reading on
Prudence Pennywise
about cucumber towers. You know, I'm still awash in cukes, so it seemed like an ideal combination. And it was! It made a fabulous, light summer meal served with sliced cantaloupe and a roll. And VOILA!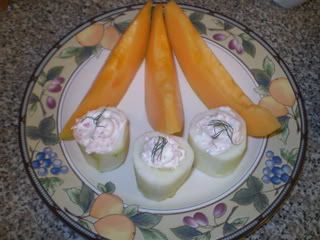 Will I do this again? You betcha! Will I make any changes? Maybe a little less salt and a little more horseradish (Yes I said it, what are you going to do about it?) Movie night is coming up and I may have to throw this into the basket.