On July 29th, I posted a farewell to my online buddy Becky. Today, her birthday, I will share with you some of my favorites of the recipes she had shared with me over the years.
I invited some friends for lunch to enjoy Red Beans and Rice, a salad of spinach, sweet potato, goat cheese, and bacon, and a dessert of chocolate meringue pie while I told them the wonderful things I knew about Becky. Her roots in Louisiana, her two daughters and wonderful husband. Her farm in Tennessee and her residence in Alabama. Her dedication to the Huntsville Botanical Gardens and her passion for art deco, Fiestaware, and vintage linens.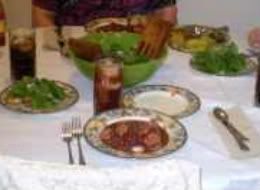 Red Beans and Rice
2 cups dry red beans
6 cups water
1 large onion, chopped
1 clove garlic, minced
½ teaspoon Tabasco sauce
2 tablespoons Worcestershire sauce
¼ teaspoon cayenne
¼ teaspoon oregano
¼ teaspoon thyme leaves
6 grates nutmeg
1½ teaspoons salt
1 lb. smoked sausage, Optional
2 cups uncooked rice
About noon on Sunday wash the beans and put in crockpot with water, onion and garlic. Turn heat to LOW, cover and cook.
Sunday night before you go to bed add the Tabasco, Worcestershire, cayenne, oregano, thyme, nutmeg and salt. Add more water, if needed. Cover and continue cooking.
On Monday morning slice and steam the sausage if you are going to use it; add to crockpot. Again, add water, if needed. Cover and cook till suppertime. Cook rice according to package directions. Place cooked rice in soup plates and ladle the beans on top.
Serves 6
Here
is the link to Becky's blog and her recipe for Chocolate Pie.
I have only recently tried Becky's recipe for Pound Cake, and it is truly delicious. Here is the recipe and her history with it.
Pound Cake
In my birth family I was known for never being able to get a cake out of a pan in one piece. However, when we got married, Mike's aunt gave me Southern Sideboards (Jackson Jr. League cookbook). In it was a recipe for Selma's VA Pound Cake. He had requested pound cake for dessert and being a newlywed, I wanted to try to make it. Well, I made it and it turned out of the pan perfectly! No more jinx. I tinkered with the recipe a little, and this is my version of that cake. It's been a success for 27 years now.
1½ cups butter
3 cups sugar
5 eggs
3 cups unbleached flour
1 cup milk
1 teaspoon vanilla
1 pinch salt
½ teaspoon baking powder
Grease and flour a large tube pan.
Cream butter and sugar till smooth. Add eggs, one at a time, beating well after each. Add flour a little at a time. Slowly add milk, flavouring and salt. Put in the baking powder last. Pour batter into pan and place in cold oven. Turn temperature to 325ºF and bake for 1 hour and 15 minutes. Cool slightly and remove from pan.