Entry three in the
Barefoot Blogging
and this week's recipe was chosen by Alexander and Sabrina at
Cooking With the Kids
. Their mom made the excellent choice of Parmesan Chicken last time, so I moved forward with confidence.
There are certain foods I feel that it is impossible to get to much of and cheddar cheese in one. I was a bit heavy handed with my cheese and I can guaranty it was not a bad thing. This is not the consistency of Southern cornbread. In fact, I can't think of anything to compare it to at all. Too heavy to be cake like, hmmmm...imagine a nope! Can't think of a thing.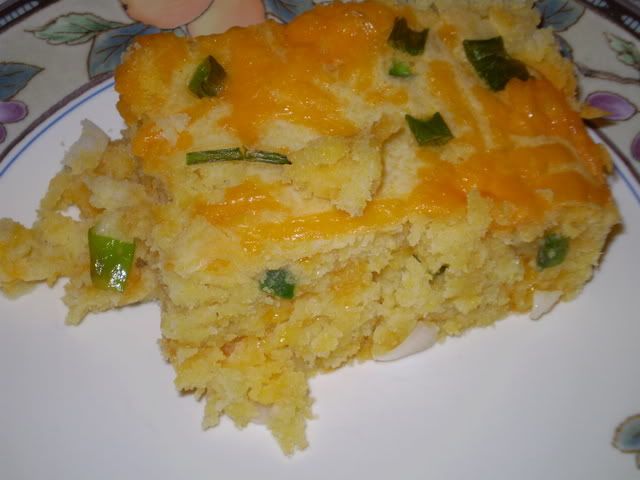 Jalapeno Cheddar Cornbread
By Ina Garten in Barefoot Contessa at Home
3 cups all purpose flour
1 cup yellow corn meal
1/4 cup sugar
2 tablespoons baking powder
2 teaspoons kosher salt
2 cups milk
3 extra-large eggs
1/2 pound unsalted butter melted, plus extra to grease the pan
8 ounces extra sharp cheddar cheese
1/2 cup chopped scallions, white an green parts, plus extra for garnish
3 tablespoons seeded and minced fresh jalapeno peppers
Combine the flour, cornmeal, sugar, baking powder and salt in a large bowl. In a separate bowl, combine the milk, eggs, and butter. With a wooden spoon, stir the wet ingredients into the dry until most of the lumps are dissolved. Don't overmix! Mix in 2 cups of the grated cheddar, the scallions and jalapenos, and allow the mixture to sit at room temperature for 20 minutes.
Meanwhile, preheat the oven to 350 degrees F. Grease a 9 x 13 inch baking pan.
Pour the batter into the prepared pan, smooth the top, and sprinkle with the remaining grated Cheddar cheese and extra chopped scallions. Bake for 30 to 35 minutes, or until a toothpick comes out clean. Cool and cut into large squares. Serve warm or at room temperature.
Now, my notes. WEAR GLOVES WHEN WORKING WITH JALAPENOS!!!!! Hours later my hands are still burning. I used large eggs, no problem. And...would I do anything differently? I might consider adding some corn to the batter for a little extra umpfff. Would I make it again. On a cold day with a bowl of chili, this would be divine. So yes. I will make it again.
To see what other Barefoot Bloggers say, click
here
.