I love to cook on Sundays. I like to experiment and try new things. I love to cook enough for lunches for the upcoming week. I may run my dishwasher once all week and three times over the week-end.
That being said, I was apathetic today. I read through cookbooks. I searched the web. Nyeh. Nothing inspired me. And then I remembered a recipe from the CK board that I had made once before and really liked. So I made Allison's South-of-the Border Stuffed Shells. Allison is a personal chef and caterer and this is an absolutely great recipe.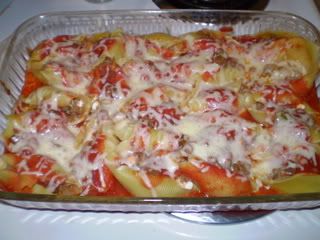 Allison's South of the Border Stuffed Shells
24 Jumbo Shells, uncooked*
1 16 oz. jar picante sauce
1 8 oz. can low-sodium tomato sauce
1/2 cup water
1 medium onion, chopped
1 pound lean ground beef (or turkey)**
2 tsp vegetable oil
1 tsp chili powder
1 4 oz. can chopped green chilies, drained
1 cup (4 ounces) grated Monterey Jack cheese
Prepare pasta according to package directions; drain.
Mix picante sauce, tomato sauce and water in small bowl. In a skillet, cook onion and ground beef in oil over medium heat until meat is browned and onion is tender (if using non-stick skillet, use only 1 teaspoon of vegetable oil). Remove from heat and drain off fat. Add chili powder, chopped green chilies, 1/2 cup shredded cheese and 1/2 cup picante sauce mixture to meat mixture.
Preheat oven to 350-o F. Pour half of remaining picante sauce mixture in bottom of 13 x 9 x 2-inch baking dish. Fill each cooked shell with 1 to 2 tablespoons of mixture and place shells in baking dish. Pour remaining picante mixture over top of shells. Cover with aluminum foil and bake at 350 -o F for 20 to 30 minutes. Uncover, add remaining 1/2 cup cheese and bake, uncovered, an additional 5 minutes until cheese melts. Serve immediately.
* This recipe can be assembled and frozen. To bake, thaw at room temperature for 8 hours and bake as directed above.
Okay, first, I made 28 shells. And I used ground turkey. And finally, I added about 3/4 cup cottage cheese to the meat mixture. Why? Because it was there? For me, shells are less about the pasta and more about the filling and the cottage cheese really did bring a certain smooth aspect to the dish. I highly recommend this one.
And, as promised, Carrot Cake Cupcake.
I have declared Carrot Cake the perfect food because it has all five food groups represented.
Vegetables...carrots
Fruit...raisins
Protein...nuts and eggs
Starch...flour
Dairy...cream cheese frosting
I may try to make these again for the 4th of July, since my dad loves carrot cake. Of course, Dad loves any form of dessert. The man has a serious sweet tooth.
And finally...
A co-worker and I were discussing the classic Green Pea Salad and began comparing recipes. I told her I used frozen peas, she uses canned. I use cheddar cheese, she used Velveeta. I fry bacon and crumble it, she uses prepackaged bacon bits. I use scallions, she uses red onion. I mix mayo with sugar and red wine vinegar, she mixes mayo and sugar.
OMG! I work with Sandra Lee! (Seriously? Canned peas and Velveeta?)