Welcome to my initial foray in the Barefoot Blogging. I can't begin to say how excited I am about my participation in this group. I love to cook, I love Ina Garten, and I love to talk about myself...has there ever been such a perfect match.
Now, first let me say that, since I live alone, I halved this recipe and still had a week's worth of meals. And I made a big boo boo in my calculations...I forgot to halve the spinach. I don't believe it effected the flavor, but did make the salad intensely green.
Pasta, Pesto and Peas
by Ina Garten
Barefoot Parties
3/4 pound fusilli pasta
3/4 pound bow tie pasta
1/4 cup good olive oil
1 1/2 cups pesto (packaged or see recipe below)
1 (10-ounce) package frozen chopped spinach, defrosted and squeezed dry
3 tablespoons freshly squeezed lemon juice
1 1/4 cups good mayonnaise
1/2 cup freshly grated Parmesan
1 1/2 cups frozen peas, defrosted
1/3 cup pignoli (pine nuts)
3/4 teaspoon kosher salt
3/4 teaspoon freshly ground black pepper
Cook the fusilli and bow ties separately in a large pot of boiling salted water for 10 to 12 minutes until each pasta is al dente. Drain and toss into a bowl with the olive oil. Cool to room temperature.
In the bowl of a food processor fitted with a steel blade, puree the pesto, spinach, and lemon juice. Add the mayonnaise and puree. Add the pesto mixture to the cooled pasta and then add the Parmesan, peas, pignoli, salt, and pepper. Mix well, season to taste, and serve at room temperature.
Also, I opted for a single pasta, and used the fusilli because I had plenty of it in the pantry.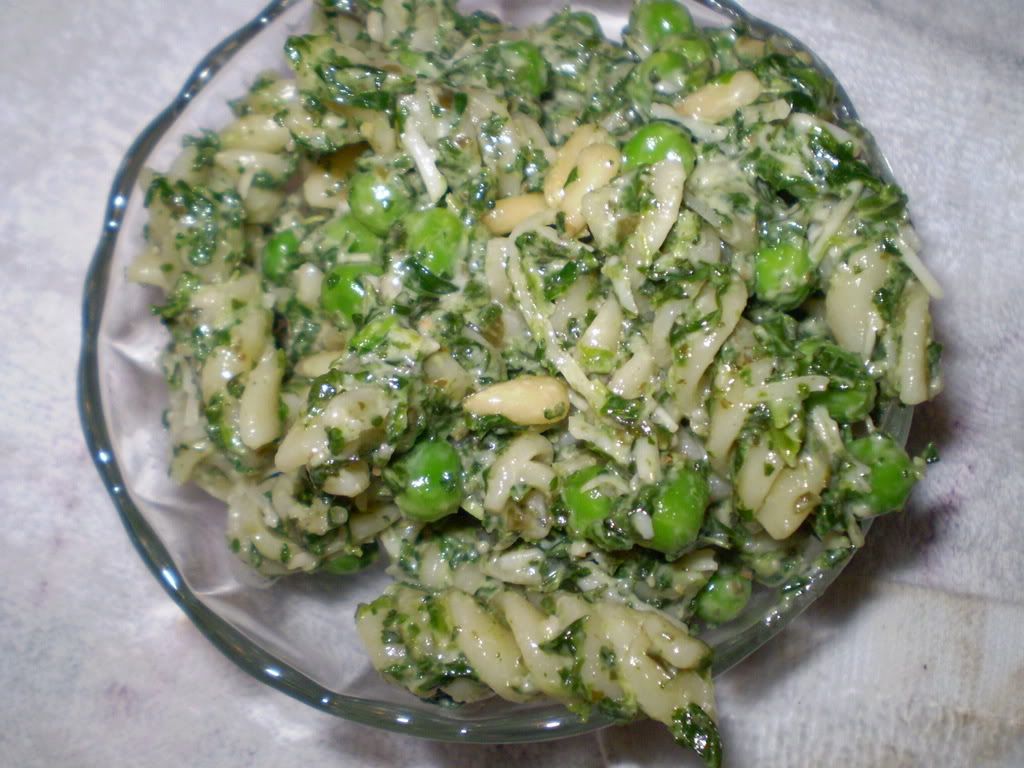 I served the salad with Honey, Mustard, and Herb Glazed Pork Chops (John & Caprial) and some grape tomatoes for a light summer meal. (Grape tomatoes being all that was available...salmonella and all.) I loved the aroma of basil and parmesan and the occasional sweet bite of pignoli or pea.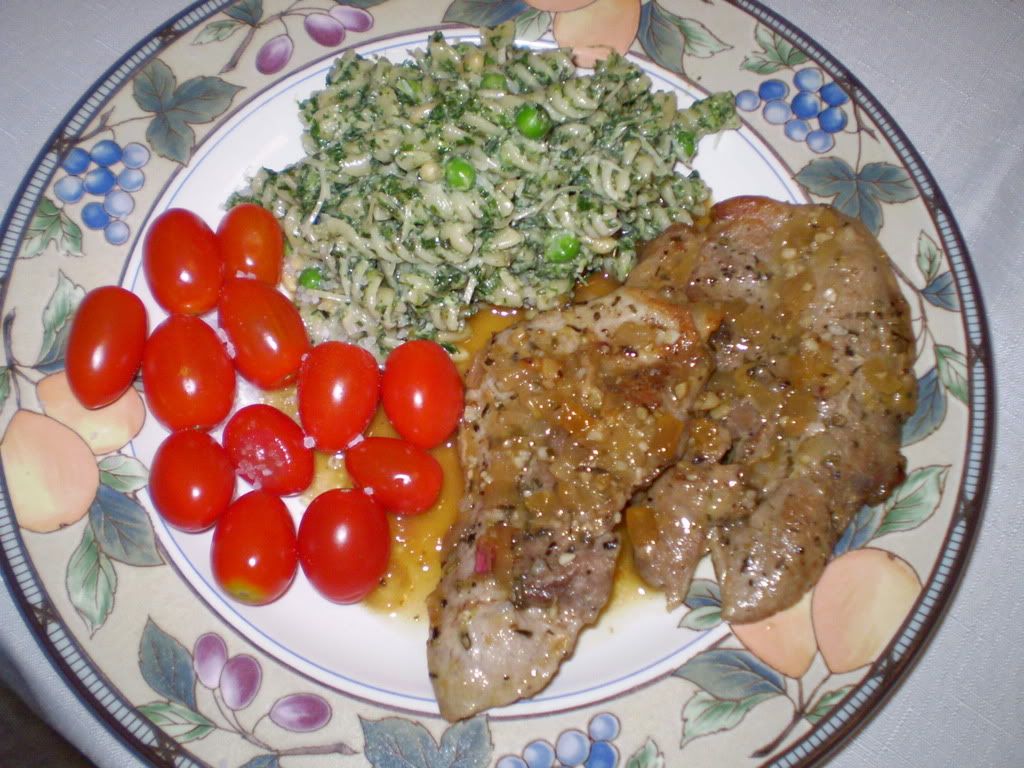 Now, would I make an alterations when making it again? I've been contemplating this question and have decided that I might try adding some crumbled bacon, after all...it's bacon!
I apologize for the photos as I am neither a food stylist or a photographer.