Storms came thru here yesterday afternoon and left me without cable. Until Monday. Those that know me, know how horrible a situation that can be...like a junkie going cold turkey. So I got some methadone in the form of books and DVDs. I'm reading a Hemlock Falls mystery right now. Pretty good. About two sisters who run a small town, high end inn.
And I made Martha Stewart's Surprise Cookies.
Surprise Cookies
makes 2 1/2 dozen
For the cookies:
1 3/4 cups all-purpose flour
3/4 cup unsweetened cocoa powder(not Dutch-process)
1/2 tsp baking soda
1/2 tsp coarse salt
1/2 cup (1 stick) unsalted butter, softened
1 cup granulated sugar
1 large egg
1/2 whole milk
1 tsp vanilla extract
About 15 marshmallows halved crosswise
For the frosting:
3 cups confectioners' sugar
6 Tbsp (3/4 stick) unsalted butter, softened
1/4 cup plus 1 1/2 tsp unsweetened cocoa powder(not Dutch-process)
1/4 cup plus 2 Tbsp whole milk
3/4 tsp vanilla extract
1. Make cookies: Preheat over to 375 degrees. Sift together flour, cocoa powder, baking soda & salt into medium bowl; set aside. Put butter & sugar into bowl of an electric mixer fitted with paddle attachment. Mix on medium high speed until pale & fluffy, about 2 minutes. Reduce speed to medium-low; mix in egg, milk & vanilla. Mix in flour mixture, 1/2 cup at a time, until combined.
2. Using a 1 3/4 inch ice cream scoop, drop dough onto baking sheets lined with parchment paper, spacing 2 inches apart. Bake cookies, rotating sheets halfway through, until firm, 8-10 minutes. Immediately press a marshmallow half on top of each cookie. Bake until marshmallows begin to melt, 2 minutes more. Let cool completely on sheets on wire racks.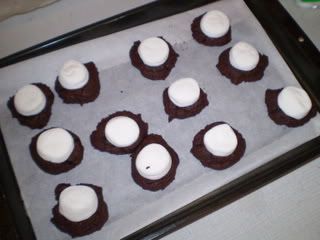 3. Make frosting: Put confectioners' sugar in medium bowl; set aside. Melt butter with cocoa powder in a small saucepan over medium-low heat, stirring occasionally. Add butter mixture to confectioners' sugar. Whisk in milk and vanilla. Spread about 1 Tbsp of frosting on top of each cookie to cover marshmallow. Let stand until set, about 10 minutes. Cookies can be stored in single layers in airtight containers at room temperature up to 2 days.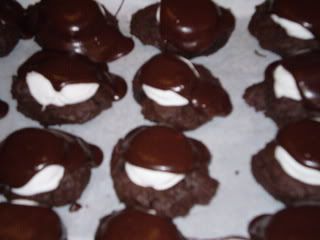 Milk Alert!
These cookies require a cold glass of milk!
Anyway, I'm back to my book. I plan to watch The Nanny Diaries and Stardust this evening...funny, I picked two movies made from books I've read. I just can't get over the quiet. If I'm home, the TV is on. Noise. I've got the stereo on, but it's just not the same.