I am not a great fan of biscotti but, admittedly, I've only had it a couple of times and it was at Starbucks or Seattle's Best...not homemade. And I certainly never tried making it. But when it was chosen for our Christmas Cookie Bake-a-long on the CK board, I thought "why not?"
Candied ginger, that's why not. My local supermarkets didn't carry it so I called the Publix in the next town. They had it with the holiday specialties and didn't have it out, but would be happy to get it for me. I love Publix.
So, candied ginger in hand this afternoon, I set about making Triple Ginger Biscotti. This was an easy recipe, and quite tasty. I just don't know if I did it right or not. They look smaller than those I've seen in the stores, and not as rounded.
It is from "The Good Cookie" by Tish Boyle.
Triple-ginger pecan biscotti
1-3/4 cup all purpose flour
1 tsp. baking powder
3/4 tsp. ground ginger
1/4 tsp. salt
pinch of freshly ground black pepper
5 Tbl. unsalted butter, softened(I used salted)
1 cup granulated sugar
2 large eggs
1 Tbl. peeled and finely grated fresh ginger
1 tsp. vanilla extract
1/3 cup chopped crystallized ginger
1 cup pecans-chopped
1. Position two racks near the center of the oven and preheat the oven to 325F. Line two baking sheets with parchment paper.
2. In a medium bowl, whisk together the flour, baking powder, ground ginger, salt and pepper. Set aside.
3. In the bowl of an electric mixer, using the paddle attachment, beat the butter and sugar until well blended. About l minute. Beat in the eggs, one at a time, beating well after each. Beat in the fresh ginger and vanilla. At low speed, add the flour mixture, mixing just until blended. Stir in the crystallized ginger and pecans and mix until combined.
4. Scrape the dough out onto a floured work surface and gather it into a disk (the dough will be quite sticky). Divide the dough in half. Sprinkle the surface with more flour and shape each piece into a 12-inch log. Transfer the logs to one of the prepared baking sheets, spacing them about 3 inches apart. With the heel of your hand, flatten the logs slightly, until they are 2 inches wide. Place the baking sheet on the upper oven rack and bake for 35 minutes, or until the logs just start to brown lightly. Set the baking sheet on a wire rack and cool for 10 minutes. Reduce oven temperature to 300 degrees.
5. Slide a spatula under each log to loosen it from the parchment paper. Carefully transfer the logs to a cutting surface. Line the baking sheet with clean parchment paper. Using a serrated knife, cut the logs on the diagonal into 1/2-inch slices. Arrange the slices cut side down and 1/2-inch apart on the two baking sheets. Bake for an additional 18 to 22 minutes, switching the position of the baking sheets halfway through baking, until the biscotti are dry and barely beginning to color around the edges. Transfer the cookies to wire racks and cool completely.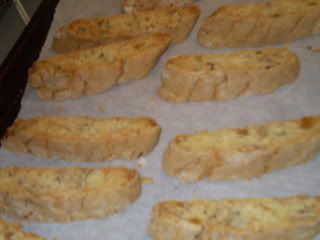 I used toasted pecans because a few weeks ago I toasted too many for another recipe and I had them already chopped and a perfect cup. I'm glad I did; I loved the taste of the toasted nuts.
The taste was great. These are far milder than ginger snaps, more mellow. So I may now be a biscotti convert. But tell me, seriously...I'm not begging for strokes here...do they look okay?