It's time again to explore the wonderful world of Ina Garten with the Barefoot Bloggers. Over one hundred of us mark our calendars for the 2nd and 4th Thursday of every month and we all cook an Ina Garten recipe. This month's recipe was chosen by Rachel at
Rachel Likes To Cook
. And I have a secret. Sssshhhhhh!
I have never cooked risotto before
.
I know. It's embarrassing. I've been meaning to try it for years, but quite frankly, I found all of that standing and stirring intimidating.
First, let's talk about adventures in shopping in a small town. Thanks to the Food Network, it is easier to find most things than it used to be, like Arborio rice. Of course, I still have to explain to the checker about shallots every time I buy them, but that's okay. The big news was that my supermarket did have saffron...for $20.00 for what looked like 2 tsps. I may have mentioned it before--I'm cheap. Far to cheap to pay that for a single recipe. And I meant to go to the Mexican grocery, but never got there.
Another blogger mentioned using cinnamon, so I thought "What the heck" and used it. I halved the recipe and would up with three good sized serving. And thank you, Ina, for once again showing me that an elegant dish like this is far easier than I imagined.
Did I like it? Well Duh! The creaminess of the rice, the saltiness of the Parmesan, and the sweetness of the squash and the shallots created a festival of flavor in my mouth.
Saffron Risotto with Butternut Squash
By Ina Garten
Barefoot Contessa Family Style
1 butternut squash -- (2 pounds)
2 tablespoons olive oil
kosher salt
freshly ground black pepper
6 cups chicken stock -- preferably homemade
6 tablespoons unsalted butter
2 ounces pancetta -- diced or good quality bacon diced
1/2 cup minced shallot -- (2 large)
1 1/2 cups Arborio rice
1/2 cup dry white wine
1 teaspoon saffron threads
1 cup freshly grated Parmesan cheese
Instructions:
Preheat the oven to 400º.
Peel the butternut squash, remove the seeds, and cut into 3/4-inch cubes. You should have about 6 cups. Place the squash on a sheet pan and toss it with the olive oil, 1 teaspoon salt, and 1/2 teaspoon pepper. Roast for 25 to 30 minutes in a preheated 400 degree F. oven, tossing once, until very tender. Set aside.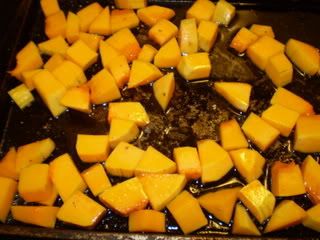 Meanwhile, heat the chicken stock in a small covered saucepan. Leave it on low heat to simmer.
In a heavy-bottomed pot or Dutch oven, melt the butter and saute the pancetta and shallots on medium-low heat for 10 minutes, until the shallots are translucent but not browned. Add the rice and stir to coat the grains with butter. Add the wine and cook for 2 minutes. Add 2 full ladles of stock to the rice plus the saffron, 1 teaspoon salt and 1/2 teaspoon pepper. Stir, and simmer until the stock is absorbed, 5 to 10 minutes. Continue to add the stock 2 ladles at a time stirring every few minutes. Each time cook until the mixture seems a little dry, then add more stock. Continue until the rice is cooked through, but still al dente, about 30 minutes total.
Off the heat, add the roasted squash cubes and Parmesan cheese. Mix well and serve.
Makes 4 to 6 servings.
You will please note that I have no pretty pictures of this dish plated. That was because I started eating it out of the pot and when you are standing at the stove eating risotto with a big honkin' serving spoon, elegance seems to escape you. Sorry!
To see what the other Barefoot Bloggers think about this recipe, click
here
.
And on a completely different subject
....
I GOT AN AWARD!!! From Cat at
The Cat's Pajama's
. How wonderful is that? I always check in with Cat to see what's on the stove, how wonderfully her husband treats her, and how God answer's her heartfelt pleas.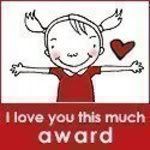 I would like to share it with some other wonderful bloggers who bring me joy.
Becky at
Random Musings of a Deco Lady
because she needs a hug right now.
Suzie @
Munch & Nibble
because she makes she makes incredible food and only seldom mentions Vegamite
Leigh Ann @
Your Home Based Mom
because we share a love of books and reading as well as food
Rebecca of
Ezra Poundcake
because she always makes me laugh
Ladies, thank you for brightening my day!