The Barefoot Bloggers cook Ina Garten recipes the 2nd and 4th Thursday of every month, but we also have a bonus recipe selected by the person who sends the most visitors to the Barefoot Bloggers site. This month's bonus recipe was selected by Val of
More Than Burnt Toast
and it included two of my favorite things...cream cheese and puff pastry. To quote Ina, "how could that be bad?"
Easy Cheese Danish
by Ina Garten
Barefoot Contessa at Home
8 oz cream cheese at room temperature
1/3 cup sugar
2 extra large egg yolks
2 tablespoons ricotta cheese
1 tsp pure vanilla extract
1/4 tsp kosher salt
1 tbs grated lemon zest (2 lemons)
2 sheets frozen puff pastry defrosted
1 egg beaten with 1 tbs water for egg wash
Preheat the oven to 400 degrees. Line a sheet pan with parchment paper.
Place the cream cheese and sugar in the bowl of an electric mixer fitted with a paddle attachement and cream together until smooth. With the mixer on low, add the egg yolks, ricotta, vanilla, salt, and lemon zest and mix until just combined. Do not whip!
Unfold one sheet of puff pastry onto a lightly floured board and roll it slightly with a lightly floured rolling pin until it's a 10 x 10 inch square. Cut the sheet into quarters with a sharp knif. Place a heaping tbs of cheese filling into the middle of each of the 4 squares.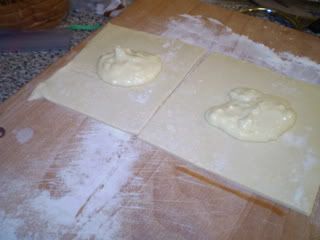 Brush the borders of each square with egg wash and fold two opposite corners to the center, brushing and overlapping the corners of each pastry so they firmly stick together. Brush the top of the pastries with egg wash. Place the pastries on the prepared sheet pan and refrigerate the filled Danish for 15 minutes.
Bake the pastries for about 20 minutes, rotating the pan once during baking, until puffed and golden brown. Serve warm.
Now, confession time. I didn't feel like zesting two lemons so I only did one. It was fine. I sprinkled the tops of the Danish with turbanado sugar before baking just for the heck of it. Fine. Extra large eggs?!! Ina..really...I used large. Fine. And finally...I fell asleep on the couch while they were cooking and did not rotate the pan. See for youreself.
I can't help but ponder the purpose of the ricotta in this recipe, but no matter. It tastes wonderful and like all of the recipes we've tried so far, it was deceptively easy for something so lovely.
To see what the other Barefoot Bloggers have to say about this recipe, click
here
.