This week on the Contessa's Kitchen board bake-along we tried White Chocolate Chunk Cookies, selected by Kim. These reminded me of a Christie's Cookies offering and that is, to quote Martha Stewart, a good thing.
Masterpiece White Chocolate Chunk Cookies
2 sticks (230 grams) unsalted butter, (16 tablespoons)
1 cup packed brown sugar
1 cup granulated sugar
2 large eggs
1 teaspoon vanilla
2 tablespoons Bailey's
3 cups cake flour (or sub, see bottom)
1 teaspoon baking soda
1/2 teaspoon salt (3/4 teaspoon if using unsalted butter)
1 cup chopped macadamia nuts, lightly toasted before chopping
9 ounces chopped up white chocolate
Preheat oven to 375 degrees F. In a mixing bowl, cream butter and both sugars. Beat in eggs, vanilla and Baileys. Stir or sift together cake flour, baking soda and salt. Stir in nuts and white chocolate.
Drop dough by rounded tablespoons onto a parchment or "Reynolds Release" lined pan. Bake for 11-13 minutes. (As you can see, I followed the advise of my fellow Contessa's and rolled these into balls. I also refrigerated the dough before baking.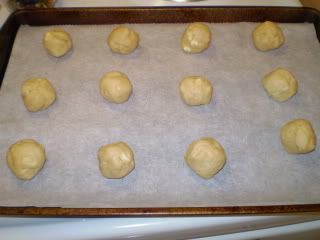 Makes 4 dozen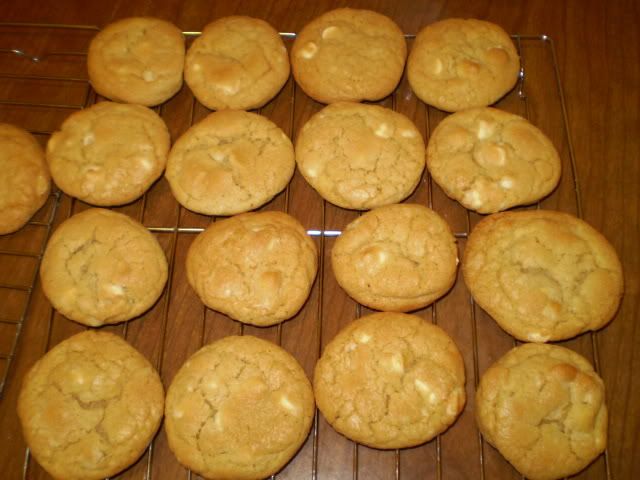 Okay. I had one. Maybe two. The rest are going to a Halloween Party tomorrow night.
All I can say is, OMG!