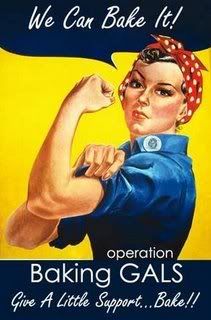 Yep! It's time again for Operation Baking Gals when over 500 volunteers send home-made goodies to men and women serving in Iraq and Afghanistan. This month I was a member of Team Adrienne's House and we sent our goodies to Sargent Mark Martin, a Southern boy from Chatsworth Georgia. And I didn't send any smack about Alabama beating Georgia (handily) in football this year.
I sent half the recipe of the Peppery Cheese, Nut & Cornmeal Cookies found in an earlier post, some gummy bears, some Tic Tacs, and some Ranger Cookies. I found the recipe for the Ranger cookies in my new BH&G Ultimate Cookie Book with over 500 recipes. That should take care of OBG for the foreseeable future. We call all pray that our servicemen and women are home long before I run out of recipes.
I highly recommend anyone who loves to bake and feels compelled to some form of service to join us next month at Operation Baking Gals. You can check out our mission and see why it is we serve
here
.
Ranger Cookies
The Better Homes and Gardens Ultimate Cookie Book
pg 75
1/2 c softened butter
1/2 c granulated sugar
1/2 c packed brown sugar
1/2 tsp baking powder
1/4 tsp baking soda
1 egg
1 tsp vanilla
1 1/4 c all purpose flour
1 c quick cooking oatmeal
1 c flaked coconut
1 c raisins, dried cherries, dried cranberries or mixed chopped dried fruit
Preheat oven to 375. In a large mixing bowl beat the butter on medium speed for 30 seconds. Add the sugars, baking powder, and baking soda beating until combined, scraping sides occasionally. Beat in egg and vanilla until combined. Beat in as much flour as you can using mixer, then beat by hand to add the rest. Stir in oats, coconut, and fruit.
Drop by rounded teaspoonfuls onto an ungreased cookie sheet about 2" apart. Bake for 8 to 10 minutes or until edges are golden and centers are set. Cool for 1 minuted on baking sheet before transferring to racks. Makes approximately 4 doz.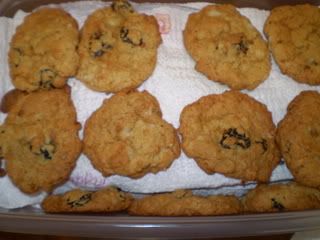 I used dried cherries and thought they tasted great.
A quick review of packing...per some very good advice from another blogger and military wife...I stick strips of apple peel between layers of paper towels and place these between layers of cookies. This keeps the cookies moist during shipping and prevents them from arriving as granola. The Gladware, ZipLock, Rubbermaid containers are great for this and you can usually catch one or the other on sale. This week I found the Gladware at Kroger for $2.50 for a pack of three good sized bowls.
Please remember those who serve in your prayers and consider enlisting as a Baking Gal yourself (or Baking Guy!)