It was my turn to pick the recipe this week, so I picked one from the Better Homes & Gardens Ultimate Cookie Cookbook. My reasoning for this was simple. Maraschino cherries? Almond extract? Score!
White Chocolate Cherry Shortbread
1/2 c maraschino cherries, drained and finely chopped
2 1/2 c all purpose flour
1/2 c sugar
1 c cold butter
12 oz white chocolate baking squares with cocoa butter
1/2tsp almond extract
2 drops red food coloring
sugar
2 tsp shortening
red & white nonpareils
Preheat oven to 325 degrees. Spread cherries on paper towels to drain.
In a large mixing bowl, stir together flour and sugar. Using a pastry blender, cut in the butter until the mixture resembles fine crumbs. Stir in drained cherries and 4 oz (2/3 c) of the chopped white chocolate. Stir in the almond extract and, if desired, the red food coloring. Form into a ball and knead gently until smooth.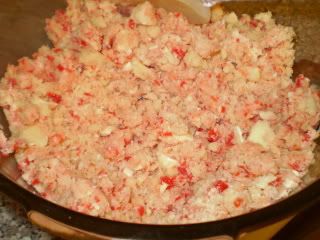 Shape dough into 3/4" balls. Place on an ungreased baking sheet approximately 2 inches apart.
Dip the bottom of a drinking glass into sugar and gently press down each ball into 1 1/2" rounds.
Bake for 10 to 12 minutes or until centers are set. Let stand for 1 minute on cookie sheet. Transfer cookies to wire rack and let cool.
In a small saucepan, heat and stir the remaining 8 ounces of white chocolate and the shortening over low heat until smooth. Dip half of each cookie into the chocolate mixture, allowing excess to drip off, and roll dipped edge in nonpareils. Place on waxed paper until set.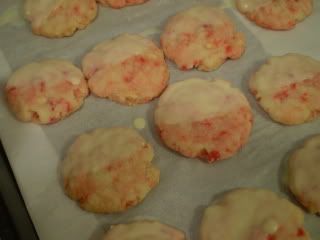 I left out the red food coloring, I didn't use the nonpareils, and I experimented dipping some of the cookies in semi-sweet chocolate. Sue me!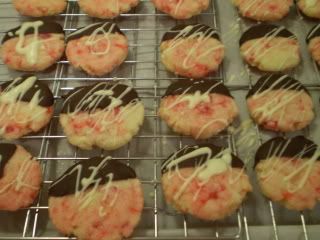 Makes 5 dozen.
I can tell you these are quite tasty and I could have been pefectly happy with the raw dough.