I am a member of a cooking discussion board and we have begun testing recipes for the upcoming holidays. Becky at
Random Musings of a Deco Lady
chose our first recipe, which was for a savory cookie. The flavor of these little tidbits is powerful but certainly reminiscent of that Southern sideboard staple, cheese straws. Or in this case, cheese pennies.
Peppery Cheese, Nut & Cornmeal Cookies
The recipe comes from The Jimtown Store Cookbook, Recipes from Sonoma County's Favourite Country Market.
"This savoury icebox cookie...will earn you a reputation as a stellar hostess. ... The yield is large, but since both the raw dough and the baked cookies freeze well, there's no reason not to stock up." Makes about 100 cookies. Serve as an appetiser, snack, or along side soups or salad."
2 1/2 cups (approximately 9 oz) pecans
8 oz Asiago* cheese, finely grated (about 2 cups)
1 cup (2 sticks) unsalted butter, softened
4 oz sharp Vermont white cheddar cheese, coarsely grated (about 2 cups)
1 cup unbleached all purpose flour
1 cup yellow cornmeal (preferably stone-ground)
1 Tbsp finely ground black pepper
1/2 tsp kosher salt
1/2 tsp ground cayenne pepper
Preheat oven to 375°F.
Toast pecans on a baking sheet, stirring a couple of times, for 8-10 minutes. Immediately remove from pan and cool to room temperature. Chop finely and measure 2 cups. Save any extras for another use.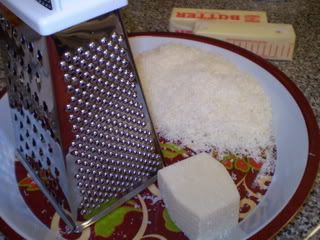 Combine Asiago, butter, cheddar, flour, cornmeal, black pepper, salt and cayenne in food processor bowl and pulse to mix. (Can mix by hand or in mixer if processor not available.) Turn dough out into large bowl and scatter the pecans over the dough. Knead to mix in the nuts until the dough is smooth. Give the dough several whacks to remove any air pockets.
Divide dough into four equal pieces and roll each into a 12" log, 1" in diameter. Wrap in plastic wrap and chill until firm.
(At this point the dough can be frozen for up to two months. Thaw frozen dough overnight in the refrigerator before baking.)
Position oven racks in the upper and lower thirds of the oven and preheat to 400°F. Line sheet pans with parchment.
Slice chilled dough into 1/8" thick rounds and arrange on prepared pans, spacing about 1 1/2" apart. Reshape to round if they flatten during slicing. Put two pans in the oven at the same time and bake for about 10 minutes or until lightly browned. Change positions of the pans on the racks from top to bottom and front to back halfway through baking time. Transfer to cooling racks and let sit till they cool to room temperature.
Store cookies in an airtight container at room temperature. They will keep for at least a week and develop more flavour if they sit for a day or two after baking. Alternately the cookies can be frozen in an airtight container for up to a month.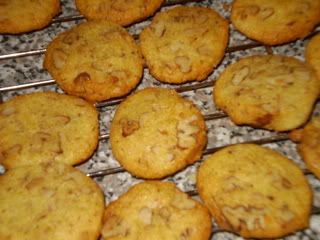 *If you can't find Asiago cheese, aged Parmesan or Pecorino Romano can be used instead.
I am a lover of all things cheese and when you throw in the toasted pecans, well now your talkin'.I didn't use the full amount of black pepper because I am just not a huge fan and besides, I didn't have any pre-ground and my wrists could only take so much grinding my own.
I only baked half the batch to take to movie night tonight and I froze the other two. They may wind up in my package next week for
Operation Baking Gals
.
I've been imagining all of the wonderful things I could do with these. I love the idea of just being able to keep the dough in the freezer so you can make it up far in advance of needing it. Any hostess would be thrilled with a decorative tin filled with these and tied in a pretty ribbon. Our how about adding them to you football watching menu. How great would all of that cheesy heat be with a cold beer?
At the moment, I'm having trouble keeping out of these. I'm hanging on to this recipe.