I'm back! And what great recipes for a come back! Oh! My! Goodness! Grown Up Mac and Cheese, chosen by Heather at
Randomosity and the Girl
totally rocks! My tummy thanks you, Heather, but my hips and thighs do not! Like all of Ina's recipes, this one is deceptively easy and incredibly edible.
Grown Up Mac and Cheese
by Ina Garten
Barefoot Contessa Show
4 oz thick-sliced bacon
vegetable oil
kosher salt
2 c elbow macaroni
1 1/2 c milk
2 T unsalted butter
2 T all-purpose flour
4 oz grated Gruyere cheese
3 oz grate extra sharp cheddar
2 oz crumbled bleu cheese
1/4 tsp freshly ground black pepper
pinch of nutmeg
2 slices white sandwich bread w/o crust
2 T freshly chopped basil
Preheat oven to 400.
Place a baking rack on a sheet pan and arrange bacon in a single layer. Roast 15-20 minutes until the bacon is crisp. Remove the pan from the oven and place the bacon on a plate lined with paper towels to drain. When cool, crumble.
Drizzle oil into a large pot of boiling salted water. Add the macaroni and cook 6-8 minutes. Drain well.
While pasta is cooking, heat the milk in a small saucepan, but don't boil. Melt the butter in a medium pot and add the flower. Cook over low heat for 2 minutes while whisking. Continue to whisk while adding the hot milk, cooking for another minute or two until smooth and thickened. Remove from heat and stir in the cheeses, 1 tsp salt, pepper, and nutmeg. Pour into two individual gratin dishes.
Pulse bread in food processor until you have coarse crumbs. Add the basil and pulse to combine. Sprinkle the crumb mixture over the top of the pasta and bake 35 to 45 minutes, or until the sauce is bubbly and the pasta is browned on top.
My changes...
My local supermarket did not have Gruyere cheese so I used manchego. I used whole wheat bread, and I made a single container in my souffle dish.
The taste was excellent, but let's take a count of dirty dishes, shall we?
1 baking sheet
1 baking rack
1 1 qt saucepan
1 2 qt saucepan
1 4 qt saucepan
1 strainer
1 measuring cup
1 food processor bowl, lid and blade
1 cutting board
1 knife
1 spoon
1 whisk
1 souffle dish
This before I ever took the first bite. Hmmm...note to self: Make this when nieces come for visit so they can clean up.
The bonus recipe this month was chosen by Anne at
Anne Strawberry
for driving the most visitors to the BB site, and I have to say...SHE DONE GOOD!
Apple Turn-overs
By Ina Garten
Barefoot Contessa TV show
1 tsp grated orange zest
3 T fresh squeezed orange juice
1 1/4 lbs tart apples
3 T dried cherries
3 T sugar plus extra to sprinkle on top
1 T all-purpose flour
1/4 tsp cinnamon
1/8 tsp ground nutmeg
pinch kosher salt
1 pkg frozen puff pastry defrosted
1 egg beaten with 1 T water for egg wash
Preheat the oven to 400.
Combine the orange zest and orange juice in a bowl. Peel, quarter, and core the apples and then cut them in a 3/4" dice. Immediately place in bowl with juice and toss to prevent from browning. Add the cherries, sugar, flour, Cinnamon, nutmeg and salt.
Flour a board lightly and roll each piece of puff pastry into a 12 x 12 square. Cut each sheet into 4 equal squares and keep chilled until needed.
Brush the edges of each small square with egg wash and neatly place 1/3 cup apple mixture in the middle. Fold the pastry diagonally and seal by pressing edges together with a fork. Place on a parchment paper lined baking sheet and and brush top with egg wash, then sprinkle with sugar. Make 2 small slits and bake for 20 minutes, until browned and puffed. Serve warm or at room temperature.
Okay, I'll be honest. I was very tired when I made this and got a little off track. I left out the salt, didn't cube the apples and used far too much juice and zest. And I forgot to cut slits in the pastry. I used raw sugar on the top. However the taste was lovely and my house smelled divine!
I'm embarrassed to show the photo...they ain't pretty.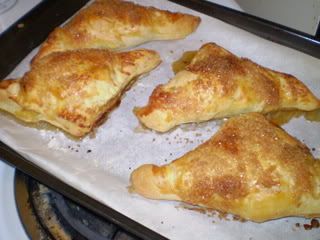 To see what the other Barefoot Bloggers have to say about these two recipes, check
here
.