This week's recipe for Barefoot Bloggers was chosen by Chelle at
Brown Eyed Baker
and she made a wise choice for the beginning of fall. Just a brief history...in case you didn't know. Barefoot Bloggers is the brain child of Tara at
Smells Like Home
and twice a month a group of foodie bloggers with a common love of all things Ina Garten make the same recipe. We then report on our experience and review the recipe.
So Chelle chose Cream of Wild Mushroom Soup. Like all of Ina's recipes, this one is a very elegant recipe that looks far more complicated than it is. I saw Ina make this on her show and serve it to Mel Brooks (if you are interested) and it looks amazing. So I was excited to try it. I loves me some 'shrooms so I was on board from the beginning.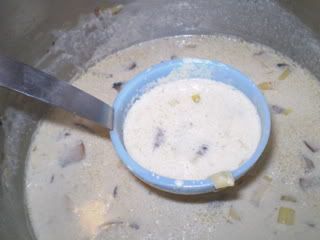 Cream of Wild Mushroom Soup
by Ina Garten
Barefoot Contessa At Home
5 oz fresh shitake mushrooms
5 oz fresh portabella mushrooms
5 oz fresh cremini (or porcini) mushrooms
1 T good olive oil
1/4 lb + 1 T unsalted butter
1 c chopped yellow onion
1 chopped carrot
1 sprig fresh thyme + 1 tsp chopped minced thyme leaves, divided
Kosher salt and fresh ground black pepper
2 c chopped leeks (white and light green parts)(2 leeks)
1/4 c all-purpose flour
1 c dry white wine
1 c half-and-half
1 c heavy cream
1/2 c minced fresh flat-leaf parsley
Clean the mushrooms by wiping the with a dry paper towel. Don't wash them! Separate the stems from the caps, trim off any bad parts, and coarsely chop the stems. Slice caps 1/4" thick and, if they are big, cut into bite-sized pieces. Set aside.
To make the stock, heat the olive oil and 1 T butter in a large pot. Add the chopped mushroom stems, chopped onion, carrot, sprig of thyme, 1 tsp salt and 1/2 tsp pepper and cook over medium low heat about 10 - 15 minutes, until veggies are soft. Add 6 cups of water, bring to a boil, reduce the heat, and simmer uncovered for 30 minutes. Strain, reserving the liquid. You should have about 4 1/2 cups of stock, if not add some water.
Meanwhile, in another large pot, heat the remaining 1/4 lb butter and add the leeks. Cook over low heat for 15 - 20 minutes, until the leeks start to turn brown. Add the mushroom caps and cook for 10 minutes, or until they are browned and tender. Add the flour and cook for 1 minute. Add the wine and stir for another minute, scraping the bottom of the pot. Add the mushroom stock, minced thyme leaves, 1 1/2 tsp salt, and 1 tsp pepper and bring to a boil Reduce heat and simmer for 15 minutes. Add the half-and-half, cream, and parsley and season with salt and pepper to taste. Heat through but do not boil. Serve hot.
Now, for my adaptations.
#1 you will notice there is no parsley in my soup. That is because parsley was over $2 a bunch and Kroger this week. Sorry, Ina, I'm just too cheap.
#2 As if this recipe isn't rich enough, I took the advice of one of the members of th CK board and used chicken stock from my freezer to make the mushroom stock. I used 4 cups of chicken stock and 2 cups of water.
#3 Kroger, again, failed me by not having any fresh thyme, so I used dried.
Believe me, I'm not complaining about the results. I served the soup with crusty french bread and a salad of mixed greens and dried cherries with a bleu cheese vinaigrette. And it was even better for lunch the next day!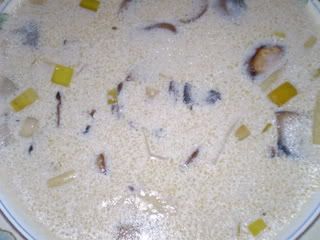 To see what the rest of the Barefoot Bloggers think, check
here
.