While I am only so-so on the taste of almonds whole, I adore the fragrance and richness imparted by almond extract. The substitution of almond extract for vanilla extract can add a richness and intense sweetness to your baked goods. My sister likes it so much, she uses almond extract in almost everything. But my sister is not inclined to do a lot of baking that does not start with a box.
My cyber buddy Paula (aka Milehighbaker) posted this recipe that seemed to be calling my name. And Saturday night being completely devoid of worthwhile TV programming, I opted to do a little baking.
Almond Scented Tea Cake
Makes 2 loaves
2 cups sugar
1.5 cups vegetable oil
3 eggs
1.5 teaspoons vanilla extract
1.5 teaspoons almond extract
3 cups flour
0.5 teaspoons salt
1.5 teaspoons baking powder
1.5 cups milk
Glaze (recipe below)
Cream together the sugar, oil, eggs, and vanilla and almond extracts in a large bowl. Combine the flour, salt, and baking powder in a separate bowl. Add the dry ingredients to the sugar mixture alternately with the milk, ending with the dry ingredients. Stir just until ingredients are combined. Do not over mix. Bake in two greased and floured 9x5 inch loaf pans at 350F for about 1 hour, or until a toothpick inserted comes out clean. While the bread is still warm and in the pan, drizzle the glaze over the top of the loaves. Place on a wire rack until almost cool. Run a knife around the edges of the pans and remove the loaves. Finish cooling on wire rack.
One small note, because my loaf pans are non-stick, I reduced the heat to 325 and they were done in 58 minutes.
Glaze
1/4 cup orange juice
3/4 cup sugar
1/2 teaspoon almond extract
Combine the ingredients and mix well. Drizzle over the warm loaves of bread.
Unfortunately, I did not have any orange juice, so I went with the basic, good for everything, powdered sugar/milk glaze. I used about 1/4 cup of milk with 1 lb of confectioners sugar and 1/2 tsp of almond extract. Also, I waited until the loaves were almost completely cool before pouring the glaze over them.
And then I sprinkled it with toasted sliced almonds because, well, why not?
Let me just say that this smelled amazing while cooking. I had just finished cleaning up after my dinner but I was drooling by the time I took the loaves from the oven. And for the record, it tasted pretty darn good, too!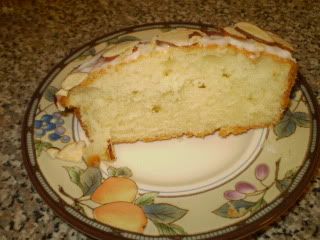 My mother used to make old fashioned tea cakes and, as I explained to MHB, they were large, soft, buttery cookies that sometimes had raisins or a sprinkling of sugar. This was not my mother's tea cake, but something marvelously new to me, instead.
There are currently 1 1/2 loaves tucked away in my freezer, wrapped tightly in aluminum foil, for a later day. I highly recommend giving this a try.