Basking in the success of my baklava, I decided to go Greek again. I love stuffed grape leaves and found a recipe that appealed to me. Of course, I adapted it somewhat--different rice, more onion, more herbs--to suit me. I also found a recipe for tzatziki that worked. So I made Dolmades and Tzatziki and please don't ask me how to pronounce it.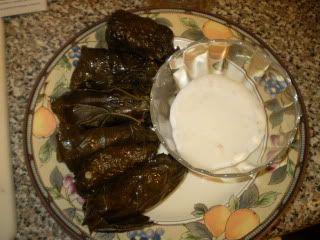 A Lebanese friend used to come to my parents for leaves from my dad's grape vines, but it's February in Tennessee, so I used a jar I purchased at Publix.
Dolmades (Stuffed Grape Leaves)
1 C Arborio rice
1 small onion dice fine
¼ c fresh chopped mint
¼ c fresh chopped dill
¼ c fresh squeezed lemon juice
¼ c extra virgin olive oil
2 c chicken stock
30-35 grape leaves
¼ c fresh squeezed lemon juice
¼ c extra virgin olive oil
2 c chicken stock
Rinse, drain, and separate grape leaves. Place on layered paper towels to dry.
In a medium saucepan, place ¼ c olive oil, onion, rice, mint, and dill and saute until onion becomes transparent. Add 2 c chicken stock and cook approximately 15 minutes, until stock is absorbed by rice. Add ¼ c lemon juice and remove from heat to cool.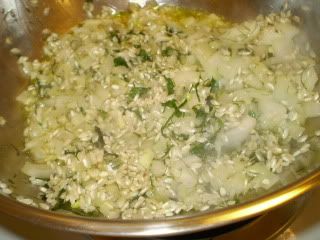 Place approximately 1 tsp of rice mixture into center of leaf and roll to resemble small cigar.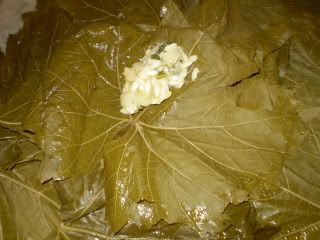 Place in bottom of a Dutch oven, seams down. Drizzle with remaining lemon juice and olive oil. Add remaining chicken stock and cover. Cook on low heat for 1 hour. Remove to paper towel to drain.
Serve warm or cold.
In truth, I really don't know how many I made. I just kept rolling until I had filled the bottom of my 6qt Dutch oven.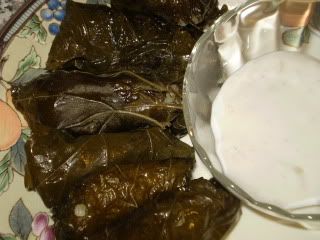 They are not pretty. My rolling ability is certainly lacking. I keep thinking of my Aunt Alma, one of the most amazing home-makers I have ever known. But in 1963, she and my Uncle Fred decided they needed a new car, so she went to work in a cigar factory. Her checks went directly into savings until, one year later, they paid cash for a brand new 1964 Impala. And Uncle Fred drove that car until the day he died. But, back to food, I don't have Aunt Alma's skill at cigar rolling. So while they may not be beautiful, my dolmades are extremely good.
You can find the tzatziki recipe and lovely photos
here
.