I worked for a man from Philadelphia once, briefly. He laughingly told me that when you asked someone from the northeast "what are you?" the response was something along the lines of German-Irish, Polish, Jewish-Italian. However the same question asked in the south resulted in in responses like Baptist, Methodist, Democrat.
Me, well, I am a true flower of the South. Born in south Florida, I grew up a Baptist in Alabama. And while we lack the diversity of cuisine, we do certain things extremely well. We barbecue. We fry. We bake. And some of these things are legendary. Southern fried chicken. Fried catfish. Hush puppies. And cakes...pound cake, Hummingbird cake, and the much ballyhooed Lane cake.
Lane cake first emerged in an 1898 cook-book by Emma Rylander Lane and the very mention of the name can inspire awe. This is not a cake to be whipped up. It is complicated and time consuming and, therefore, reserved for special occasions. It is layers of white sponge cake with a boozy fruit and nut filling. Some recipes call for using the filling for frosting, also, but I grew up with a frothy white boiled icing that dresses the cake up in a frilly party dress.
Alabama Lane Cake
1 cup room temperature butter
2 cups sugar
3 1/2 c sifted all purpose flour
3 tsp baking powder
1 c milk
1 tsp vanilla extract
8 egg whites
Preheat oven to 350. Grease and flour 3 9" cake pans. (I also lined bottoms with parchment that I greased and floured.)
Cream butter and sugar together until light and fluffy. Sift flour with baking powder and add to creamed mixture, alternating with milk; start and end with flour mixture. Add vanilla. Beat eggs to stiff peaks and fold into batter. Pour batter evenly into prepared pans and bake 20 to 30 minutes or until they test done.
Filling
8 egg yolks
2 cups sugar
1 stick butter
1 tsp vanilla
1 cup chopped raisins
1 cup chopped pecans
1 cup coconut
1 cup wine or bourbon*
Lightly beat eggs and place over double boiler with sugar and butter; cook until thick, stirring constantly. Add fruit and nuts and wine and continue to cook until thick. Remove from heat and add vanilla. Cool and place between cake layers.
Fluffy Boiled Frosting
1 1/2 cups sugar
1/2 tsp cream of tartar
1/8 tsp salt
1/2 cup water
4 room temperature egg whites
1/2 tsp vanilla extract
Combine sugar, cream of tartar, salt and water in heavy sauce pan. Cook over medium heat, stirring constantly, until mixture is clear. Bring to a boil and cook until soft boil stage on candy thermometer (238 degrees).
Beat egg whites to soft peaks. With mixer running, pour sugar mixture in a thin stream into egg whites without getting on beaters. (I used the whisk attachment on my KitchenAid and there was no problem.) Add vanilla and beat until stiff peaks form and frosting is desired consistency.
Frost top and sides of cake.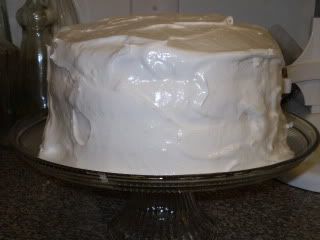 This cake is better the next day.
I used a full cup of bourbon (the original recipe calls for a wine glass full of wine or bourbon) which was very, very strong. I am reminded of the line in To Kill A Mockingbird in which Scout comments on the Lane cake made by a neighbor.
"Miss Maudy Atkinson baked a Lane cake so loaded with shinny it made me tight."
Let's just say that I had a slight buzz after sampling the filling. The next time I make this cake, I will use wine or less bourbon.
I think, for now, I will revel in my Southern heritage and have a lovely piece of cake.