I love tea. Hot tea. Iced tea. Sweet tea (house wine of the South). Red tea. Black tea. Green tea. Fruit tea. Spiced tea. Mint tea. I love tea!
I will make a mug of Bigelow Mint Medley before bed time. Midmorning calls for something spicy. A glass of peach iced tea on a hot day is divine. But civilization requires Earl Gray to be served in a proper cup and saucer on a napkin lined tray with a little snack.
It's the law...you can look it up.
This afternoon, I felt like a cup of Earl Gray with milk, so I had to have something with which to serve it. I don't keep that kind of stuff around the house, so I had to bake something.
I love shortbread, but really didn't want to spend as much time on my feet as cookies require. Chocolate was calling to me, but I didn't want anything too sweet. And, thus, the Chocolate Fruit Loaf was born.
Chocolate Fruit Loaf
1/4 cup softened unsalted butter
2/3 cup sugar
1 egg
1 1/2 cups all purpose flour
1/3 cup cocoa powder
1 tsp baking soda
1/4 tsp salt
1 cup buttermilk
1 tsp vanilla
2 tsp instant coffee granules
1 cup walnut pieces
1/4 cup chopped dated
1/4 cup dried cherries
1/4 cup milk chocolate chips
Grease 9 x 5 loaf pan and preheat oven to 350.*
Cream together butter and sugar; add egg. Sift together flour, cocoa, soda, and salt. Starting and ending with dry mix, alternate adding flour mixture and buttermilk. Add vanilla and coffee granules. By hand, stir in nuts, fruit, and chocolate chips. Bake for 55 to 60 minutes.
Remove from oven when toothpick inserted into loaf comes out clean. Cool on wire rack.
*I used a nonstick pan, so I set the temp for 325.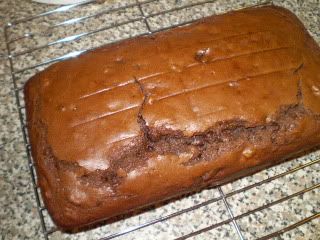 This is not a sweet loaf and is lovely when served warm with butter.