I had an aunt and uncle who would give us for Christmas each year a gift from Swiss Colony or Hickory Farms filled with assorted meats, cheeses, and condiments. I have always loved cheeses of various flavors, even as a child, and my particular favorite in this selection was the wedge of Havarti or Swiss with caraway seeds. It was mine alone to enjoy.
What, you may ask, does this have to do with an Irish holiday?
When I decided to cook something Irish for the day, I was stumped. Corned beef and cabbage is not really appropriate for one. I thought of stew, but wasn't in the mood. It was far to warm out for Shepherd's Pie.
I decided to try Irish Soda Bread and started combing the internet and my cookbooks. There are so many recipes that I was put off, a bit. There are those that argue that sweet bread with fruit is not truly Irish, but is an Irish-American twist.
I settled for a recipe from Epicurious which did include the fruit. But it also called for caraway seeds. I believe I mentioned how much I like caraway seeds?
Irish Soda Bread with Raisins and Caraway
5 cups all purpose flour
1 cup sugar
1 tablespoon baking powder
1 1/2 teaspoons salt
1 teaspoon baking soda
1/2 cup (1 stick) unsalted butter, cut into cubes, room temperature
2 1/2 cups raisins
3 tablespoons caraway seeds
2 1/2 cups buttermilk
1 large egg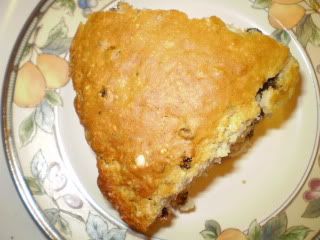 Preheat oven to 350°F. Generously butter heavy ovenproof 10- to 12-inch-diameter skillet with 2- to 2 1/2-inch-high sides. Whisk first 5 ingredients in large bowl to blend. Add butter; using fingertips, rub in until coarse crumbs form. Stir in raisins and caraway seeds. Whisk buttermilk and egg in medium bowl to blend. Add to dough; using wooden spoon, stir just until well incorporated (dough will be very sticky).
Transfer dough to prepared skillet; smooth top, mounding slightly in center. Using small sharp knife dipped into flour, cut 1-inch-deep X in top center of dough. Bake until bread is cooked through and tester inserted into center comes out clean, about 1 hour 15 minutes. Cool bread in skillet 10 minutes. Turn out onto rack and cool completely. (Can be made 1 day ahead. Wrap tightly in foil; store at room temperature.)
Now, I thought I had plenty of raisins, but it seems I only had 1 cup; so I also added some currants.
You will note that this is not pretty. I apologize. It is, however, quite tasty.
For the original recipe and story behind it, click
here
.