I grew up in Birmingham, Alabama which, surprisingly, has a large Mediterranean population. The Greek Festival is amazing.
And I love Mediterranean food. Falafel, gyros, stuffed grape leaves, seafood, and most of all, balkava.
I have not, however, tried to make it. Filo dough scares me. It is fragile and, I assumed, difficult to work with. But a few weeks ago, my niece made some excellent baklava and, in doing so, gave me courage.
I scoured the internet for a perfect recipe, but wound up bastardizing three to find one that suited me. Here is what I came up with: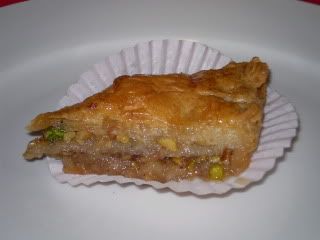 2 cups finely chopped nuts (I used pistachios, walnuts, and pecans)
1/2 tsp ground cinnamon
1/4 tsp ground cloves
1/2 cup sugar
1 cup melted butter
1 package (16 oz) Filo dough
1 cup water
3/4 cup sugar
3/4 cup honey
1 Tbs lemon juice
Thaw dough per package instructions and trim to fit 13 x 9 pan. Mix together chopped nuts, cinnamon, cloves, and 1/2 cup sugar. Set aside.
Prepare baking dish with butter flavored cooking spray or coat with butter. Place one sheet dough in bottom and brush with melted butter. Repeat 10 times. Cover dough with damp kitchen towel when not using. Sprinkle 10th layer lightly with nut mixture. Repeat dough layering until first pack of dough is done. Generously spread with nut mixture.
Repeat dough layering ten times. Sprinkle with remaining nut mixture and complete layering dough and butter until complete. Cut to form triangles or diamonds.
Bake in preheated 400 degree oven until golden brown (30 to 35 minutes). Remove and set aside. While pastry is baking, bring water, honey, lemon juice and 3/4 cup sugar to a boil and continue to boil approximately 20 minutes, stirring occasionally.
Remove from heat to cool.
Pour cooled syrup over pastry. Once syrup has been absorbed by pastry, place in cupcake papers to serve.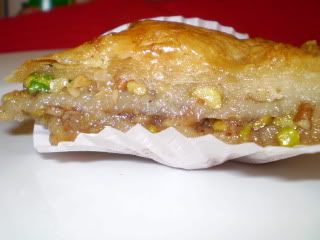 Immediately start giving this to friends and neighbors! Do not leave this unattended! It is very, very dangerous.