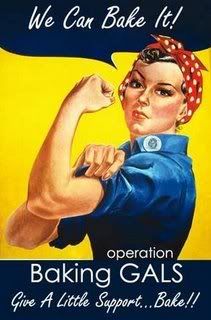 It's that time of the month when bloggers and bakers around the US do our part to say thank you to those wonderful men and women serving in the military overseas.
Operation Baking Gals
has moved far beyond what anyone imagined it could be and I am quite proud to take part.
This month I sent my cookies to the brother in law of MaryAnn at
Meet Me In the Kitchen
and as a fellow southerner, I felt it was my job to "represent."
The point of this is to send little reminders of "home" so I went with more comfort based cookies. I made a Chewy Oatmeal Cookie and Paula Deen's Thumbprint Cookies. And for the record...I used a pound and half of butter tonight! I love this because I can bake and not gain a pound! Although, there was not enough room for four cookies and I was forced (yes forced!) to eat them myself. Did I mention the amount of butter in these two recipes?
The Thumbprint cookies are a very basic dough rolled into balls mashed in the middle with your thumb. I filled mine with tart cherry and peach preserves.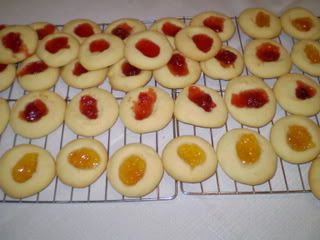 I'll post the recipe for the oatmeal cookies at the bottom. These are a great recipe and can be enhances with currants, raisins, nuts, etc. I made the very basic recipe today and I have to say...I love the spicy sweetness of this cookie.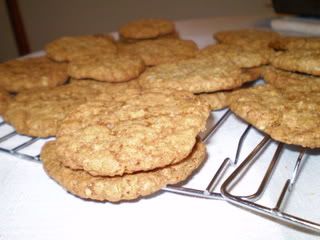 I once again followed the advice of a military wife and layered paper towels with apple peel keep the cookies moist.
The wonderful thing about this that I keep thinking about using these recipes again for Christmas. I'm going to bed soon so I can get up and make treats to take to work tomorrow. Do.Not.Laugh.
Chewy Oatmeal Cookies
1 c room temp butter
1 c sugar
1 c brown sugar
2 eggs
1 tsp vanilla extract
2 c all-purpose flour
1 tsp baking soda
1 tsp salt
1 1/2 tsp cinnamon
1/4 tsp ground cloves
3 c quick cooking oats
Sift flour, soda, salt, cinnamon and cloves together and set aside. Cream butter and sugars until fluffy and add eggs, one at a time. Beat until smooth. Add vanilla. Add flour to butter mixture and mix until blended. Add oats. Refrigerate dough for at least an hour. Roll into 1" balls and place about 2" apart on a baking sheet lined with parchment paper. Bake in a preheated 375 degree oven for approximately 10 minutes. Cool on sheet 3 to 4 minutes before transferring to wire rack to finish cooling.