This week's BB recipe is Panzanella from the Barefoot Contessa Parties cookbook and was chosen by
Melissa at It's Melissa's Kitchen
. Can you believe that there are almost 100 of us?!
I've been avoiding this recipe for one simple reason...I knew I would love it. No, I'm not a masochist, I just have no self control. This recipe has so many things I love...tomatoes, cucumbers, bread, onions, basil, bread, capers, bread...Since I came home from visiting my parents with enough tomatoes to feed an army and a few cucumbers, it seemed providential that this was the recipe for this week.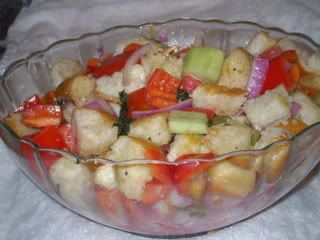 Panzanella
by Ina Garten
Barefoot Parties
3 Tbs olive oil
1 small loaf French bread cut into 1 inch cubes
1 tsp kosher salt
2 large ripe tomatoes cut into 1 inch cubes
1 cucumber unpeeled, seeded, sliced 1/2 inch thick*
1 red bell pepper seeded and cut into 1 inch cubes
1 yellow bell pepper seeded and cut into 1 inch cubes
1/2 red onion thinly sliced
20 large basil leaves coarsely chopped
3 Tbs capers drained
Vinaigrette:
1 tsp finely minced garlic
1/2 tsp Dijon mustard
3 Tbs champagne vinegar
1/2 c olive oil*
1/2 tsp kosher salt
1/4 tsp freshly ground black pepper
Heat the oil in a large saute pan and add the bread and the salt. Cook over low to medium heat tossing frequently for 10 minutes or until nicely browned. Add more oil if needed.
Whisk together the vinaigrette and set aside.
In a large bowl, mix the tomatoes, cucumber, peppers, red onion, basil and capers. Add the bread cubes and toss with the vinaigrette. Salt and pepper if needed.
Like most Ina recipes, I halved this one had enough for four large servings. Since I was only making a half recipe, I only used a red pepper. I peeled my garden fresh cucumber and used extra virgin olive oil for the vinaigrette. I really did not think it needed any additional seasoning.
The next time I make this (and I will make this again), I will use less onion. It just seemed a bit overpowering.
Check out the what the other Barefoot Bloggers had to say about this recipe
here
.