I get into trouble. We had about 6" of snow and I stayed in today. This is not totally unusual. I don't like driving in the snow and ice; I will when necessary, but it hasn't been necessary.
So, I got bored. And I made a chocolate cake. As a matter of fact, I made Hershey's Perfect Chocolate cake. I didn't make layers, I made it in a 9 x13 pan. And I iced it with the Hershey's Chocolate Frosting.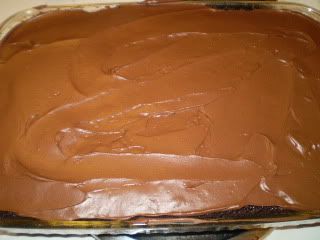 It seems to be calling out for a tall, cold glass of milk, huh?
The thing is, I don't want it and I really don't need it. But I have it. And I'm trapped here with it. Thinking about it. Smelling it. Dreaming about it.
This is not good!