I can finally reveal the home-made goodies I gave to friends and family this year.
First, I made marshmallows and gave them with a lovely peppermint mocha hot cocoa mix. I used the Martha Stewart recipe for the marshmallows and I can honestly say, the flavor was well worth the effort!
I also made bottles of limoncello. I actually adapted a recipe by combining the many I found online.
1 1.75 liter bottle vodka
the peel of 22 lemons
4 cups sugar
5 cups water
Peel the lemons with a vegetable peeler, being careful to not get the white. Place in a sealable container and add vodka. Cover and place in a cool, dark place for 3-4 weeks. Combine sugar and water in a saucepan and cook over low heat until sugar is dissolved. Strain the vodka into another sealable container and add cooled simple syrup. Store in cool, dark place another 21 days. Pour into sterilized bottles and keep refrigerated.
I headed into the deep south with my girls for Christmas with my family and had my first, ever, WHITE CHRISTMAS!
It was perfect! The roads never really got bad but we had 2" of snow.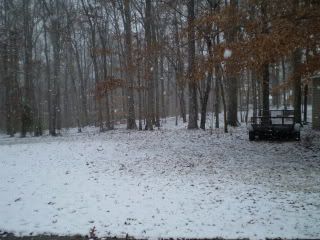 For those of you who are used to this sort of thing, please accept my apologies for my exuberance.
I hope that you all had a peaceful, joyous holiday!