I got up Friday morning and straighted the house a little. Then I headed out to have my car serviced and run it through the car wash. And then I hit the road for Alabama to spend the holiday with my family.
Friday evening I made a vegetable salad that needed to marinate overnite. Next, I made dill pickles. I cheated and used a packaged mix for these but I used Dad's home-grown cucumbers.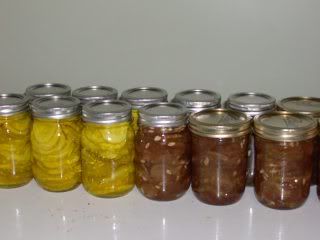 Saturday morning I made banana bread and baked beans. Dad cooked ribs and corn on the grill. I also made some sugar free strawberry ice cream. So our 4th of July celebration included ribs, marinated veggie salad, roasted corn, sliced tomatoes, diced cantaloupe, baked beans, banana bread, and strawberry ice cream. Not bad for 6 people!
Today I put the finishing touches on a batch of bread & butter pickles I started on Monday. The photo above shows the dill pickles on the left and the B&Bs on the right.
Bread & Butter Pickles
2 gallons sliced cucumbers
1 1/2 c pickling salt
2 c vinegar
1 oz alum
5 lbs sugar
4 tbs mustard seed
2 tbs cinnamon
1 tbs celery seed
12 whole cloves
6 c vinegar
Place cucumbers in a non-reactive container with salt and enough water to cover. Refrigerate three days.
Drain the cucumbers and combine with vinegar, alum, and enough water to cover. Refrigerate two days.
Drain the cucumbers. Bring to a boil sugar, spices, and vinegar and pour over cucumbers. Refrigerate overnite.
Boil the pickles for 10 minutes and place into sterilized jars. Place in boiling water bath.
I can hardly wait to make a turkey sandwich to have with the B&B pickles. Ham for the dills.