I took my Mom to Kmart on the evening of 12/23 so that she could do some shopping. We picked up a few things she needed and wanted, and were heading to the cash registers ( a straight shot up the aisle we were on, less than 50 feet away) when Mom told me to go ahead and check out and she would meet me at the front door. When I checked out, there was no Mom. I went back to where I had last seen her and searched. Nope. I spent the next 20 minutes frantically running from the front door to various parts of the store in which she might have wandered. As I was giving up, ready to ask a young employee for assistance, I spotted her in the very back of the store, in front of the storage area doors amidst the strollers. When asked what she was doing there, she responded with "Waiting for you! Where have you been?"
I got a Swiffer Wet Jet for Christmas. Sad to say, I was very excited to get a mop. I've used it twice already. I also got a lot of gift cards and a set of sheets.
I had friends over for fondue again this New Year's Eve and my friend Virginia took some pictures for me. I made a Gruyere fondue that I served with bread cubes, new potatoes, sliced apples, mushrooms and cauliflower. For a main course, we had chicken and pork marinated in a soy/ginger sauce that was really, really good. This we cooked in peanut oil. Ron and Virginia brought some shrimp which we cooked in beef broth.
Throughout the evening there was a wonderful Cheater Sangria, white wine, and assorted sodas.
And then came the reason for owning a fondue pot...chocolate.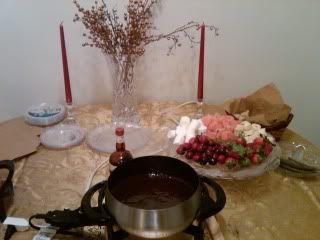 Served with orange slice candy, bananas, strawberries, cherries, and marshmallows.
We popped the cork on some Yellow Tail Sparkling White at midnight, which we followed with coffee. We also played The Game of Things which I lost badly...it seems I'm very predictable.
I slept most of New Years Day and then took down my Christmas decorations on Saturday.
If you are interested, here are a couple of recipes from Thursday's Fondue Redo.
Cheater Sangria
1 bottle Shiraz
1 bottle White Cranberry Peach juice
1 orange, sliced
1 lemon, sliced
1 lime, sliced
Mix together wine and juice, add fruit, serve over ice.
Gruyere Fondue
16 oz Gruyere
2 Tbs corn starch
1 clove garlic
3/4 c dry white wine
pinch grated nutmeg
Remove rind from cheese and grate; toss with corn starch. Place wine and garlic in fondue pot and bring to boil. Add cheese and nutmeg. Stir until cheese melts.
Chocolate Fondue
8 oz semisweet chocolate (I used Ghiradelli's)
8 oz bittersweet chocolate (I used Ghiradelli's)
3/4 c heavy cream
3-4 Tbs Grand Marinier
2 Tbs honey
Warm cream in fondue pot until bubbles form around the edge. Add chocolate, honey,and liqueur. Stir until chocolate melts.