I've been quite busy, lately, canning and pickling. I made two batches of
pickles
and a batch of
salsa
in the last couple of weeks. Then I received a call from my dad stating that his tomatoes were coming in fast and furious and to come get some soon before they were all gone.
I loaded up the cats and headed south to find his garage over-run with tomatoes and many still on the vines. First I made another batch of salsa. Then sat and calculated the amount left. His neighbors and friends have reached the saturation point and are refusing to take his calls.
Today I decided to try my hand and canning tomato sauce and found this recipe.
Tomato Sauce with Fresh Herbs
15 lbs tomatos
2 lbs onions
1/3 cup olive oil
6 cloves garlic
2 cups chopped fresh basil
3 TBS salt
1 TBS pepper
1/2 cup lemon juice
1 bottle red wine (optional)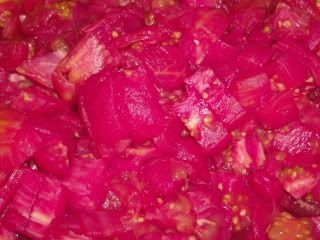 I know the color is wild, but that is 15 pound of tomatoes, pealed and chopped.
Peel and chop tomatoes and set aside. Dice onions and saute in olive oil. Add chopped garlic just before onions become translucent. Add tomatoes, salt, pepper, basil and wine (if using).
Bring to a boil and reduce to a simmer. Cook until reduced by 1/3, about 2 hours. Add lemon juice and cook an additional 5 minutes. Fill jars and place immediately into boiling water bath for 30 to 35 minutes (30 minutes for pints, 35 for quarts). Makes 8 qts if using wine, 6 if not.
My sister contributed the basil from her garden and the smell is divine. I can hardley wait to cook up some pasta and try it! Imagine garden fresh goodness in the middle of winter!