Say the word pie, and two things immediately come to mind...Andie McDowell's song about pie in the movie
Michael
and an obscure skit from Saturday Night Live in which Alec Baldwin reproaches diner waitress Jan Hooks for giving away pie with a meal because it made her look cheap.
I am a pop culture junkie.
A pop culture junkie that looooves me some pie!
I was invited to participate in an online event in which over a thousand of us baked pie and posted the photos on Facebook or Twitter and it threw me into a tizzy (for those of you not from the South, I was terribly excited.) What kind to make? Fruit, cream, or custard? One crust, two crust, or lattice top? Which pastry recipe to use? Cold water pastry? Hot water pastry? Pate brisee?
A quick inventory of my pantry and fridge and I decided on Lemon Meringue, a personal favorite.
First, the pastry. This recipe came from Suzie in the Contessa's Kitchen discussion board and was quite lovely.
Perfect Pie Crust
1/2 cup water
1 large egg
1 tablespoon vinegar
Mix together with a fork and set aside.
In a large bowl put
4 cups flour
2 teaspoons salt
1 tablespoon sugar
1 & 3/4 cup of Crisco (no substitutions)
Cut the Crisco into the flour mixture (I just use my hands) When it is well blended add the liquid. You don't have to worry about toughening the dough, mix it in. Don't worry if the dough seems wet, divide into 2 or 3 equal discs and wrap in plastic wrap and chill for approximately 2 hours. Roll on a floured board to 1/8" thick and about 12" round.
Place in 9" pie pan and trim pastry so that it is 1/2" larger than the rimmed edge of the dish. Fold under and crimp. Poke the bottom of the crust with a fork 4 to 6 times. Place a piece of foil (I like the non-stick) in the bottom and add pie weights (I use dried beans). Place in a 375 degree oven for 15 to 18 minutes. Remove foil and weights and reduce heat to 350 degrees. Bake until golden brown, about another 15 minutes. Remove and set aside to cool.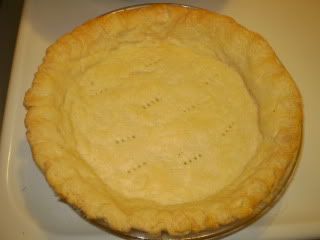 And then, the filling.
The original recipe is a bit spotty. It is from the Calling All Cooks cookbook by the Alabama Telephone Pioneers. The submitter, Evelyn Gullett, must make this filling by rote and tried to write it by memory. A few things were not very clear, so I've tried to clean it up a bit.
1 1/2 c sugar
3 T salted butter
1 1/2 c water
1/3 cornstarch
juice of three lemons
3 egg yolks, beaten well
Cream together butter and sugar. Dissolve cornstarch in water and add lemon juice. Add sugar mixture and egg yolks and mix well. Place in medium sauce pan and cook over medium low heat, stirring constantly, until it coats the back of the spoon. Remove from heat and cook approximately 10 minutes. Place in prepared shell.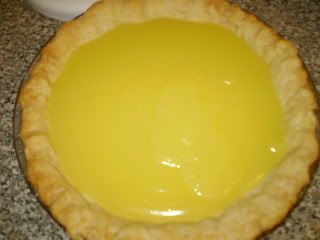 For the meringue.
3 egg whites
6 Tbs sugar
1/8 tsp cream of tartar
Beat until stiff and spread over the filling, making sure meringue meets crusts to seal the pie. Bake at 350 degrees until peaks begin to brown, about 10 minutes.
The finished product.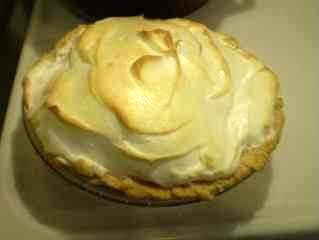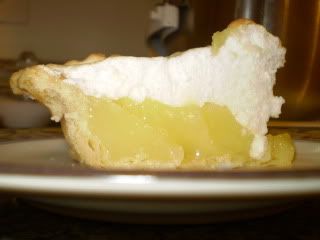 Now then, everybody sing along...
Pie
Pie
Me oh my
Nothing tastes sweet, wet, salty and dry
all at once o well it's pie
Apple!
Pumpkin!
Minced
an' wet bottom.
Come to your place everyday if you've got em'
Pie
Me o my
I love pie!