I've been very nostalgic lately, beginning in the summer when I bought Fuzzy Navel wine coolers. Very 80s of me. Then, a couple of weeks ago I really wanted ham rolls, so I made them for movie night. There was never a bridal shower, baby shower, brunch or cocktail party in the 80's with out these things. (Little ham and Swiss sandwiches with a mustard, onion, and poppy seed topping.)
And for some reason, I decided to revisit my youth again while making Christmas candy.
I plan on making Buck-eyes, later, but today I made Martha Washington Balls. I remember my mom making these when I was a tween. Once made, she would have to hide them to keep my sister and I out of them long enough for her to give them to friends and neighbors. (I have no idea of the origin of the name. Sorry!)
Martha Washington Balls
2 lbs confectioners sugar
2 stick butter, melted
2 c finely chopped pecans
1 can sweetened condensed milk
1 12 oz bag semi-sweet chocolate morsels
1/4 block paraffin
Mix together the sugar, butter, pecans and milk. Roll into balls and refrigerate.
In a double boiler, melt paraffin and chocolate. Dip balls in chocolate and place on a cookie sheet lined with wax paper (or a Silpat) and refrigerate to cool.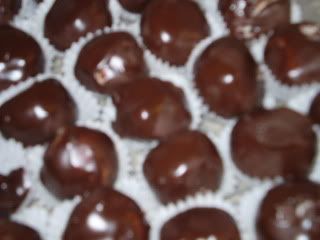 This batch made 8 dozen.