I have never made an old fashioned banana pudding. My mother never made an old fashioned banana pudding. So yesterday, we had what my sister likes to call occupational therapy for my mom, and gave it a whirl. I scoured the Internet, the box of vanilla wafers, and old cook-books looking for a recipe we could work with, and finally came up with a hybrid of several different recipes.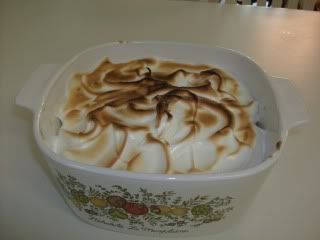 New/Old Fashioned Banana Pudding
1 12 oz can evaporated milk
1 c milk (I used 2%)
4 egg yolks lightly beaten
1/2 c sugar
1/2 c Splenda
6 to 8 ripe bananas
1 tsp vanilla extract
vanilla wafers
Place milks in top of double boiler to warm but do not boil. Slowly add to egg yolks and then place back into the double boiler. Add sugar and stir often, cooking for 10-15 minutes. Puree' 4 bananas and add to custard when it is almost set. Set aside to cool. Add vanilla.
Line a casserole dish on bottom and sides with vanilla wafers. Pour a layer of custard and top with a layer of sliced banana. Repeat.
Meringue
4 egg whites
1/4 tsp cream of tartar
1/3 cup sugar
Whip egg whites and cream of tartar until they start to foam. Add sugar and ship until soft peaks form. Place on top of pudding and place under broiler until top starts to brown.
Adding the pureed bananas to the custard intensified the flavor and made this a very rich dessert.