There are movies that I remember with great fondness from my youth and a few, when seen in my adult years, fall terribly short. Oh, Billy Jack (head bowed, fist in the air)you were my hero then, today...not so much. And the tears I cried watching Love Story, today I laugh at the corny dialog.
Is Animal House still funny? Yes! Is What's Up Doc? Maybe?
I went to Target after work yesterday with a list that included a yoga DVD. I've done yoga before and enjoyed the benefits, so I decided I needed to put it back into my routine. Of course, I made the mistake of looking in the DVD section, but there were none. They were with the exercise equipment.
But in the DVDs was a section labeled "Girls Night" and the movies were wrapped in pink. Lots of romantic comedies. But there, by it's lonesome, was one of those movies from my youth that I had truly loved. I stood there humming the theme song just looking at it, and I swear it's been 25 years since I last saw it.
Ice Castles.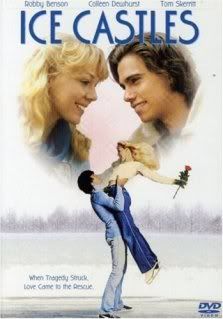 It immediately went into my basket. And with the Olympics beginning tomorrow, what better time to watch it? I curled up on the couch, cat in my lap, wrapped in a warm throw, and watched Robbie Benson in all of his blue eyed beauty. And Tom Skerritt, full beard and all, looked amazing! Colleen Dewhurst!
I've never liked Jennifer Warren, and I can't help but wonder if it is because of her role in Ice Castles. Or is it just because she always played a cold hearted witch?
The only part that I found different now was the love affair between Lexie and the reporter. It creeped me out. I don't remember feeling that in my teens, but he had to be at least 30 to her 16! Yuck! And I couldn't help but wonder why her dad didn't plow him? I guess this movie was meant to appeal to teen-aged girls and they don't think about things like statuatory rape.
Am I glad I bought it? To quote Sarah Palin, "You betcha!"
Please, don't let this feeling end...