My friend Carolea from the Contessa's Kitchen board posted this recipe from Land 'o Lakes on Friday. So, of course, I had to make it over the week-end.
Chocolate Lava Drops
1/2 cup butter
3 (1 oz.) squares bittersweet baking chocolate
3/4 cup sugar
1 egg
1-3/4 cups all purpose flour
1/2 teaspoon baking powder
1/2 teaspoon salt
32 dark chocolate kiss-shaped candies, unwrapped
1/2 cup sparkling sanding sugar - or sugar
Heat oven to 350 degrees.
Place butter and bittersweet chocolate in large microwave-safe bowl. Microwave on high (100 percent power), stirring every 30 seconds, until melted and smooth (1 to 2 minutes). Cool 10 minutes.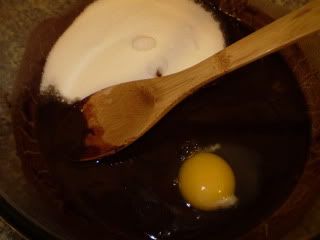 Add 3/4 cup sugar and egg to melted cooled chocolate mixture; beat at medium speed until well mixed. Reduce speed to low; add flour, baking powder and salt. Continue beating until well mixed.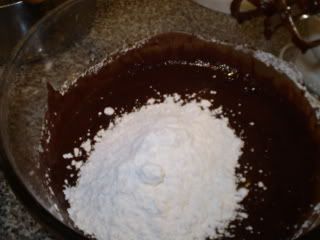 Shape dough into 1-inch balls. Press 1 chocolate candy into each ball; form dough around candy to completely cover.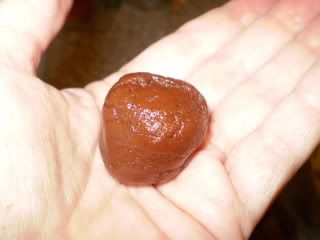 Place 1/2 cup sugar in small bowl; roll balls in sugar.
Place 1 inch apart onto lightly greased cookie sheets. Bake for 9 to 11 minutes or until set. Cool 5 minutes on cookie sheet. Serve warm.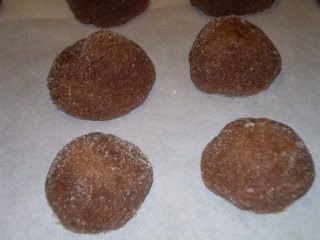 MAKE AHEAD TIP: Shape cookies; roll in sugar. Place in container with tight-fitting lid. Store at room temperature up to 2 hours or refrigerate until ready to bake.
REHEATING TIP: Place 2 cookies onto microwave-safe plate. Microwave on HIGH (100 percent power) until centers are melted (15 to 30 seconds). Do not over-heat
Yield: 32 cookies
Okay. I thought I was getting dark chocolate kisses, but got milk chocolate. Some woman was parked in front of them at Kroger and I had to reach across her shopping cart and grab a bag. I can only imagine how good they are with semi-sweet kisses. They are pretty darn good with milk chocolate.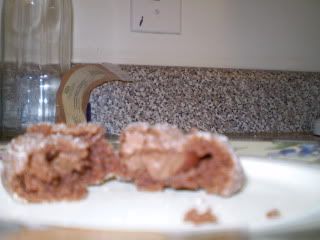 Yummy goodness! Warm chocolate! Excellent! Please excuse the messy kitchen (hanging my head in shame).