We had movie night at Ginny's Saturday and, as usual, it was fab! She picked two great westerns with Jimmy Steward, directed by Anthony Mann...Winchester '73 and The Naked Spur.
And of course, we had plenty to eat. Ginny baked a ham and some sweet potatoes and whipped up some absolutely delish baked beans. Karen made a sweet potato and black bean salad and fig and caramelized onion tart. I made savory thumbprints with my Apricot Pepper jelly.
And I made this:
One-Dish Black-eyed Pea Cornbread
Souther Living
This uniquely Southern recipe works as a tasty appetizer when cut into small squares or as a main dish when paired with a tossed green salad.
1 pound spicy ground pork sausage
1 medium onion, diced
1 cup white cornmeal
1/2 cup all-purpose flour
1 teaspoon salt
1/2 teaspoon baking soda
2 large eggs, lightly beaten
1 cup buttermilk
1/2 cup vegetable oil
1 (15-ounce) can black-eyed peas, drained
2 cups (8 ounces) shredded Cheddar cheese
3/4 cup cream-style corn
1/4 cup chopped pickled jalapeño peppers
1 (4.5-ounce) can chopped green chiles
Cook sausage and onion in a large skillet over medium-high heat 5 minutes, stirring until sausage crumbles and is no longer pink. Drain.
Combine cornmeal, flour, salt, and baking soda.
Stir together eggs, buttermilk, and oil until combined. Add to dry ingredients, stirring just until moistened. (Batter will not be smooth.) Add sausage mixture, peas, and remaining ingredients to batter, stirring well.
Pour into a greased 13- x 9-inch baking dish.
Bake at 350° for 1 hour or until golden and set.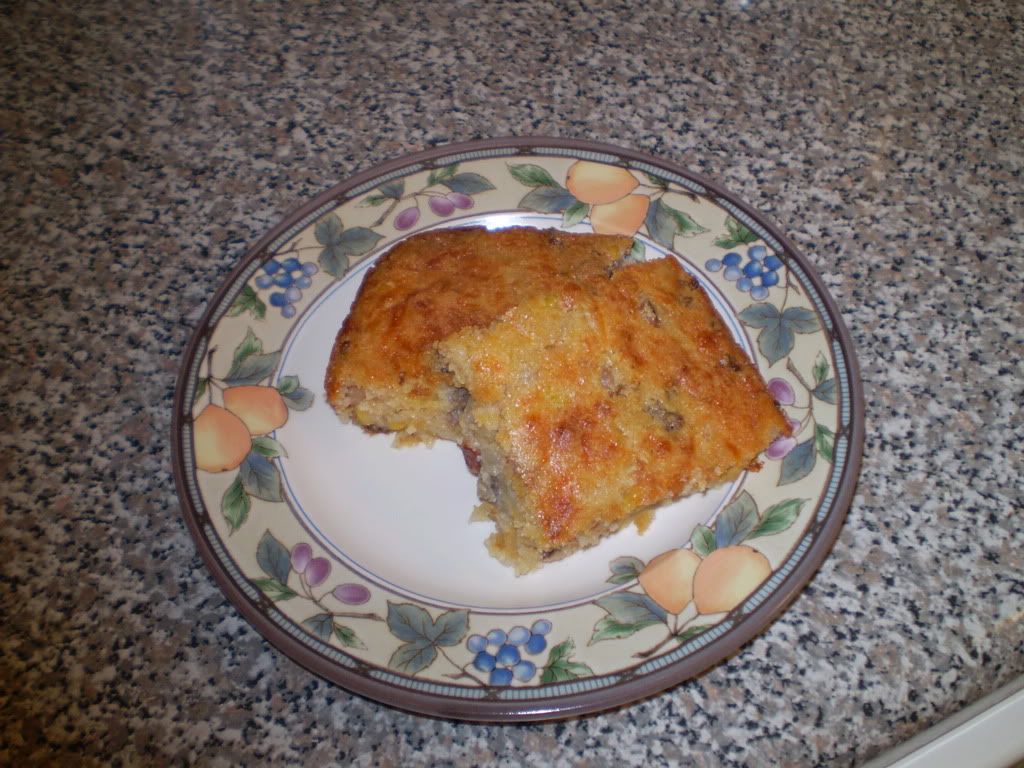 This is a great cool weather dish. It can be lighted by using less oil (as little as 2 T, but I use 1/4 cup), fat free buttermilk, and light cheese. I use mild or sage sausage because the peppers back enough punch for me. It can be made ahead and frozen before baking. And it is easily halved. I like to serve it with a green salad. That pretty much makes a meal.
Forgot to add that we had a beautiful birthday cake in the shape of a hat from the Publix bakery (always excellent) in honor of Ginny's birthday tomorrow.