My Aunt Rachel makes the best fried chicken! It is always crispy on the outside, tender and juicy on the inside. But health problems have kept her from cooking for several years now.
I recently asked her how to cook fried chicken and took my own form of shorthand while she outlined the process. I then set about recreating this dish and clarifying for my own sake her instructions.
This is the best I could come up with.
Rachel Fisher's Fried Chicken
6 to 8 boneless skinless chicken breasts
1 c White Lily Self-rising Flour (more if needed)
Salt
Lemon pepper
Vegetable oil
Cut chicken breasts in halves or thirds, depending on size. Trim any loose pieces. Rinse in ice water and pat dry with paper towels. Dredge in flour. Dip into clean ice water, season liberally with salt and lemon pepper, and dredge in flour again.
Place oil approximately 3" deep in dutch oven and heat oil to 350 degrees. Place a few pieces of chicken into hot oil, but do not crowd. (I can cook 4 halves comfortably). Cook until you can see browning on the sides of each piece, 3-4 minutes. Reduce heat, turn chicken and cover pot. Cook until chicken has internal temperature of 175 to 180 degrees. (about 5 minutes). Place on paper towels to drain. Repeat with remaining chicken.
And the finished product...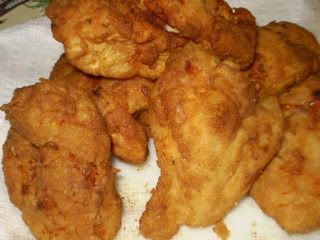 Now all I need is potato salad and sliced tomato!