I love dates. My first encounter with dates was canned date bread spread with cream cheese...my mom's "fancy" snack for bridal teas and showers. A former missionary to China once served a group of 13 year old girls dates stuffed with cheese. And one of my favorite cookies is a date nut cookie my family refers to as Justine's.
It was only natural, then, while perusing a beloved old cookbook* I discovered a recipe for a date and nut bread, I should jump right on it. A quick scan of the ingredients and I knew I had everything I needed. It was meant to be.
Bishop Bread
3 large eggs, beaten
1 cup sugar
1 cup all purpose flour
1 tsp baking powder
1/4 tsp salt
1 tsp vanilla
2 Tbs peach brandy**
1 cup chopped dates
1 cup toasted pecans
Preheat oven to 335 degrees. Grease a 9 x 5 loaf pan.
Toss dates and pecans with 1/4 cup of the flour. Set aside.
Add brandy and vanilla to eggs and whisk. Add flour, sugar, baking powder, and salt to egg mixture and mix until wet. Add dates and pecans and stir. Bake for approximately 1 hour or until toothpick inserted in middle comes out clean.
Cool on rack for 15 minutes. Remove from pan to rack and continue to cool. Slice and serve with cream cheese.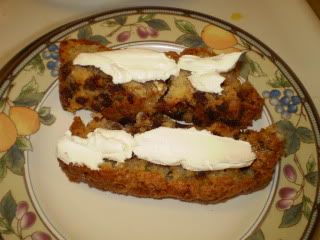 *The original recipe came from Calling All Cooks, published by the Alabama service organization of Bell South.
**The original recipe states the brandy is optional, but, to me, it adds an interesting depth of flavor.
Don't expect a big, fluffy loaf. It is, however, packed with the sweetness of dates and the nuttiness of the pecans and is, to me, perfect.