When I ask my parents what they want me to cook for them, pot roast is always the first request. Since Dad is responsible for the meals these days, he goes the easy route with jarred pasta sauce, frozen dinners, and grilled meats. He loves a good roast, but has no desire to cook one.
So I cooked a roast for Father's Day dinner, like every Sunday of my childhood, and it was extremely good. This is something I learned from my mom and it is always a winner.
I'm sorry to say that the only photo I was able to take was prior to going into the oven because I was busy frying squash when it came out.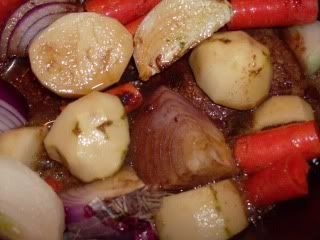 Here is the way I cook a Sunday Pot Roast
1 2 1/2 to 3 lb boneless chuck roast
1/2 cup Dale's Steak Sauce
3 Tbs Worchestershire Sauce
1 cup Coke
1 extra large or 2 medium onions
6 small or 4 large carrots
6 medium potatoes*
2 Tbs vegetable oil
Salt
Pepper
Flour
Salt & pepper roast and dredge in flour. Pour oil in bottom of cast iron dutch oven and heat to medium high. Brown sides of roast and add vegetables and liquids. Place in 300 degree oven for 2 hours. (We like our roast beef well done, cook it for less if you like it pink).
Serves 6
*If I use red potatoes, I use 2 - 3 per person.
And I would like to share some of the beauty from my Dad's back yard. He has a green thumb, a gene that somehow didn't make it to my sister and I.
I love the hydrangeas that border the deck.
And the gardenias (far enough away so as to not give one a headache).
And these, which thanks to my online buddy Becky (DecoLady), it turns out is Aphrodite Rose of Sharon.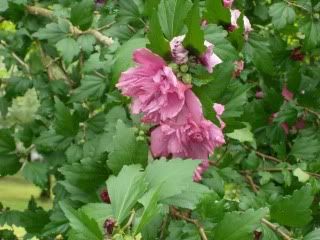 Not shown is the tree that fell during a storm on Saturday.