I went to my friend Elaine's birthday party on Saturday evening. I won't tell her age, but I will say that she is a year and a half younger than me. And it was birthday that ends in zero. That's it. That's all I'm sayin'. Besides happy birthday, of course! I bought giant strawberries (as big as my fist) and dipped them in chocolate as a little something for her. And I found I cute card with Lucy and Ethel on the front that played the two of them singing "Friendship".
I spent Friday evening baking "soldier cookies" as I call them. This month I sent cookies to members of the Tennessee National Guard. I made Ina Garten's Peanut Butter Chocolate Chunk cookies from the Barefoot Contessa Parties cookbook:
Peanut Butter Chocolate Chunk Cookies
1/2 pound unsalted butter -- at room temperature
1 1/2 cups light brown sugar -- packed
3/4 cup sugar
2 extra-large eggs -- at room temperature
2 teaspoons vanilla
1 cup smooth peanut butter
2 1/2 cups flour
1 teaspoon baking powder
1 teaspoon kosher salt
1 pound semisweet chocolate chunks
Preheat the oven to 350 degrees.
In the bowl of an electric mixer fitted with the paddle attachment, cream the butter and sugars until light and fluffy. Add the eggs, one at a time. Add the vanilla and peanut butter, and mix. Sift together the flour, baking powder, and salt and add to the batter, mixing only until combined. Fold in the chocolate chunks.
Drop the dough on a baking sheet lined with parchment paper, using either a 1 3/4-inch ice cream scoop or a rounded tablespoon. Dampen your hands, flatten the dough lightly, then press the tines of a wet fork in both directions. Bake for exactly 17 minutes (the cookies will seem underdone). Do not overbake. Remove from the oven and let cool slightly on the pan, then transfer to a wire rack and let cool completely.
You can also make the dough ahead and refrigerate, covered.
*I couldn't find semi-sweet chocolate chunks at Kroger, so I used 1 1/2 cups milk chocolate chunks and 1 1/2 cups of giant semi-sweet chocolate chips.
Before cooking.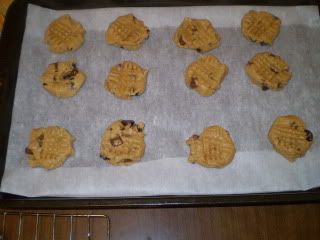 After baking.
I also made a recipe for Chewy Granola Bars, a King Arthur recipe that was shared with me from my web buddy, Mile High Baker. It seems some members of this group are a bit health conscious. We'll just pretend that the butter is not in this recipe.
This is the recipe from MHB--
Thick, Chewy Granola Bars
Adapted from King Arthur Flour

This is probably the most flexible recipe I've posted. When it comes to granola, what you're looking for is a basic proportion of chunky (nuts, dried fruit) to sticky (syrups, sugar, butter or oils) and from there, you can really go to town. The vanilla is optional. The cinnamon is optional. You can use no dried fruit or you can use all dried fruit in your 2 to 3 cup mix. You can toss in things like puffed rice cereal or flax seeds. In the comments, I'd love to hear what mix you came up with and how you liked it. I can only imagine the possibilities.

Of note: The original recipe calls for something called "sticky bun sugar" which can be made at home with sugar, butter and corn syrup. It is for this reason that corn syrup is listed within one ingredient but also separately, and I used all butter rather than two different fats. Whether the corn syrup can be entirely replaced with honey or maple syrup or the butter can be entirely replaced with a healthier oil is worth auditioning, I just didn't. Yet. I can tell you this: as is, this is the best granola bar I've ever eaten.

1 2/3 cups quick rolled oats (if gluten-free, be sure to use gluten-free oats)
1/2 to 3/4 cup granulated sugar (use more for a sweetness akin to most purchased bars; use less for a mildly sweet bar)
1/3 cup oat flour (or 1/3 cup oats, processed till finely ground in a food processor or blender)
1/2 teaspoon salt
1/4 teaspoon ground cinnamon
2 to 3 cups dried fruits and nuts (total of 10 to 15 ounces)*
1/3 cup peanut butter or another nut butter (I used almond butter) (optional)
1 teaspoon vanilla extract (optional, namely because I was not convinced that the flavor came through)
6 tablespoons melted butter
1/4 cup honey, maple syrup or corn syrup
2 tablespoons light corn syrup (see Note above)
1 tablespoon water

Preheat the oven to 350°F. Line an 8″ x 8″ x 2″ pan in one direction with parchment paper, allowing it to go up the opposing sides. Lightly grease the parchment paper and the exposed pan, or coat with a non-stick spray.

Stir together all the dry ingredients, including the fruit and nuts. In a separate bowl, whisk together the vanilla, melted butter or oil, liquid sweeteners and water. Toss the wet ingredients with the dry (and peanut butter, if you're using it) until the mixture is evenly crumbly. Spread in the prepared pan, pressing them in firmly to ensure they are molded to the shape of the pan. (A piece of plastic wrap can help with this, as you press down on the back of it.)

Bake the bars for 30 to 40 minutes, until they're brown around the edges — don't be afraid to get a little color on the tops too. They'll still seem soft and almost underbaked when you press into the center of the pan but do not worry, they'll set completely once completely cool.

Cool the bars in their pan completely on a cooling rack. (Alternately, after about 20 minutes you can use your parchment "sling" to lift and remove the bars, and place them in their paper on the rack to cool the rest of the way. This can speed the process up.)

Once cool, a serrated knife (or bench knife) to cut the bars into squares. [Updating to note, as many had crumbling issues:] If bars seem crumbly, chill the pan of them further in the fridge for 30 minutes which will fully set the "glue", then cut them cold. To store, wrap the bars individually in plastic or stack them in an airtight container. In humid weather, it's best to store bars in the refrigerator. They also freeze well.

*Suggestions: Dried cranberries, apricots, pecans, sunflower seeds, coconut, walnuts, sesame seeds, pepitas, dried apples or even chocolate chips. My mix: 1/2 cup wheat germ, 1 cup dried cherries, 1 cup walnuts, 1/2 cup pecans and 1/2 cup dried unsweetened coconut flakes. Because my pieces were all pretty coarse, I pulsed them in the food processor a few times to break it up a little, though this isn't necessary if you don't mind yours chunkier.
I used 2/3 cup each of walnuts, chopped dates, dried cranberries, and a mixture of dried cherries with golden raisins. I used almond butter and almond extract, the lesser amount of sugar, and maple syrup.
The photo is of my quality control sample (you cannot send inferior baked goods to noble soldiers, defenders of freedom and THE AMERICAN WAY!) and I will be making this recipe again.
It was a beautiful Spring week-end and the Red buds are as beautiful as I've ever seen. The dogwoods are in full bloom. The Bradford pears are leafing out. Allergy season is here! Here is a shot from the car as I was on my way home....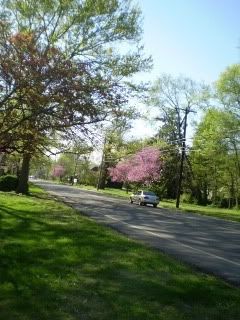 And here is a little something for fun...