This is my "To Do" list from Saturday morning, compiled while drinking coffee, eating breakfast, making my bed, brushing my teeth, and applying my make-up.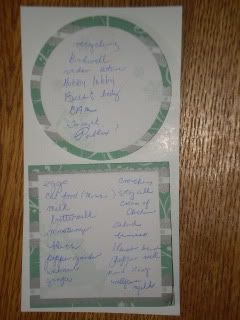 You will note the top includes places to go, things to do, etc and to bottom is a shopping list. I will state that everything was purchased but the pepper mill (which made it on the list twice???) and the buttermilk and all tasks accomplished.
At the video store, I returned Eagle Eye and picked up Valkyrie (the most boring movie ever made). Seems I had seen Eagle Eye before, only it was called the Eschelon Conspiracy and starred Shane West and Edward Burns instead of Shia LeBouef and Billy Bob Thornton.
I woke up during the wee hours Saturday morning and had a sudden thought. At that moment, 3:27 a.m., I wished I smoked. I have never smoked nor had the desire to smoke, but at that moment I did. I just felt it would be far more interesting to be sitting alone in the dark thinking and smoking a cigarette than lying in bed watching re-runs of Rosanne.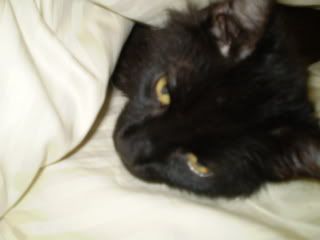 I have to pull Prissy out from under the covers, near my feet, every morning before making my bed. She is such a slug.
And finally, a little bit of sunshine. Enjoy!