Last Sunday I baked cookies for Operation Baking Gals and mailed them off on Tuesday. The day we had torrential rain. It was the most fun, ever! I love OBG because it gives me the opportunity to try new recipes. I love to bake cookies, but certainly don't need them hanging around where I could eat them. So I bake, sample a couple, and send the rest off to foreign lands. In this case, to Afghanistan.
This month I baked for David King, my old friend Mary Kay's hubby, who is currently on his second tour in Afghanistan. Here is a picture of David & Mary Kay and their two sons, Zach and David.

First I made Black Forrest Crinkle cookies, but they did not crinkle up as well as I thought. They did taste good, so I made a second batch of those.
And then I made Koulourakia (Greek Butter Cookies)
I'll give you three guesses on the first ingredient.
3/4 pound butter softened
1 1/4 cups sugar
2 eggs, plus 2 eggs, for glaze on top
2 tablespoons orange juice with no pulp
2 tablespoons pure vanilla extract
3/4 teaspoon baking soda
1 1/2 teaspoons baking powder
5 1/4 cups flour
All ingredients should be at room temp. Preheat oven to 350 degrees. In a large mixing bowl, cream the butter for 5 minutes. Add sugar to the mixture and beat another 5 to 7 minutes. Add eggs and beat until blended.
Add the orange juice and the vanilla extract.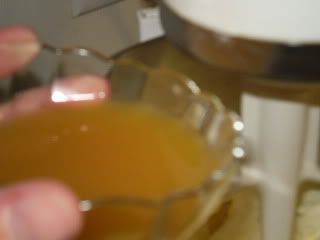 In a large bowl combine the baking powder and baking soda with about 1 cup of flour and stir in the egg mixture slowly. Add the remaining cups of flour gradually. The dough is ready when it leaves the sides of your mixing bowl completely. The dough is soft and pliable.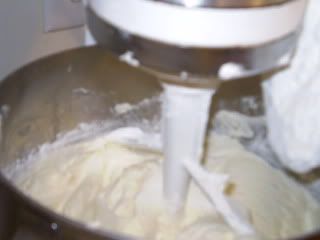 Pinch off a piece of dough and roll out the dough into long rope like portions, fold over in half and twist.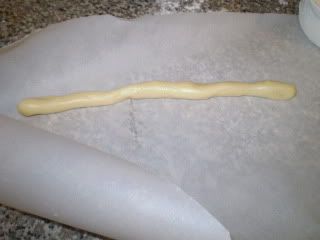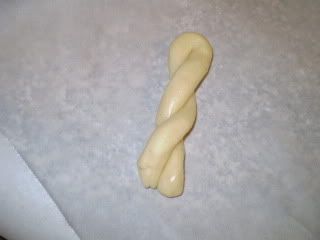 Place the cookies on a greased baking pan.
Beat the 2 eggs in a small bowl to make the glaze. Brush the cookies on the pan with the glaze and bake in the oven for 25 minutes until golden brown.
Voila! Cookies. Enough to feed a unit of the National Guard.
Now, about my new obsession...If you haven't checked out
this site
, your really should. Start at the very beginning and read forward because there are a couple of entries from the same people regarding lawn chairs that are truly side splitting.