Every holiday has it's own flavor. Thanksgiving tastes of nutmeg, pumpkin, and sage. Christmas of peppermint, cinnamon, and cloves. Independence Day has the sweet, wet flavor of watermelon and home grown tomatoes. Memorial Day has the charcoal rich hamburgers and hot dogs. Easter tastes of ham and devilled eggs.
And while chocolate has it's place in each of these holidays, one holiday is defined by chocolate. Dark or milk. Hershey's or Godiva. Chocolate reigns supreme on February 14th.
When we were children and teens, my father would give my sister and I a card and a Whitman's Sampler each year for Valentine's Day. I still feel nostalgic at the sight of that yellow box.
I am a follower if Ina Garten, the Barefoot Contessa, and have her cookbooks and watch her show whenever I can. One of Ina's favorite, quick treats is chocolate bark. I've seen her make it a couple of times and noted how easy it seemed.
I've also seen a lot of buzz regarding custom made chocolate bark at
Chocomize
.
So, with a full pantry and time on my hands, I decided to give it a try.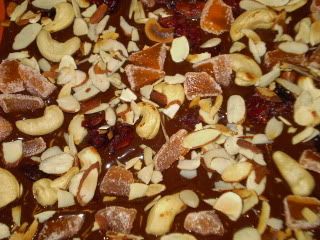 I began by scouring my pantry and freezer. I found lots of nuts (lots) and lots of dried fruit. I toasted the raw nuts in an iron skillet on the stove top.
Dark Chocolate Fruit and Nut Bark
8 oz semi-sweet chocolate
4 oz bittersweet chocolate
1 cup chopped orange slice candy
1/2 cup toasted cashews
1/4 cup toasted sliced almonds
1/4 cup dried cranberries
Place chocolate in a microwave safe bowl and cook on high (my ancient microwave took 3 1/2 minutes) stirring every 30 seconds or so, until melted. Pour onto Silpat or parchment lined pan and spread approximately 1/4" thick. Sprinkle toppings as evenly as possible. You can see that I didn't do a great job of it.
Refrigerate approximately 30 minutes or until firm. Break apart. I placed mine in cello treat bags and tied them with a red ribbon.
Now then, what shall I do with these bags of "home-made sin"?
**Rejected toppings to be considered at another time--shaved coconut, pistachios, walnuts, dried apricots, toffee bits.