Wow! This year really flew by!
I'm having a few friends over tonight to ring in the new year and I decided to do fondue. Here is my menu:
Appetizers
3 Cheese Fondue
cornichons, pickled brussel sprouts
red and green pepper strips
summer sausage, and cubed bread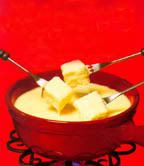 Entree
Hawaiian Marinated Pork
Garlic pineapple dipping sauce
Beef Fillet
Bacon bleu cheese dipping sauce
Aioli
Shrimp
Cocktail sauce
Cherry tomatoes
Zucchini
Dessert
Chocolate fondue with Raspberry Liqueur
pound cake, bananas, pears
marshmallows, strawberries
Beverages will include a variety soft drinks, wine, coffee, and bubbly for ringing in 2009.
May the coming year bring you nothing but peace and happiness.